After the Nefertiti statue, is London the new center for Arab Art?
It may be time for Arab art to migrate to London
The city of Samalut in Egypt was home to one of the greatest insults to Arab art and history this week, after a replica statue of Nefertiti was erected on a highway. The statue was meant to replicate the original, which has been on display in Berlin for decades. Yet this statue did not pay tribute to Nefertiti, Egyptian history, the Arab population, or the beautifully traditional Armana style art. Instead, it was very much a greenish-yellow coloured slap in the face to Arab art.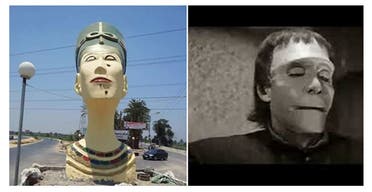 Is it time for Arab art to migrate to where artists are given enough respect and sufficient tools to create the beauty they are able to? Like shopping and investments, it may be time for Arab art to migrate to London.
It's about time we showcase the art we create
While there is a relative shortage of art galleries in the Middle East, there's certainly no shortage of artists. This was realized by Europe, and London has answered the calls by Arab artists and given them an opportunity to showcase their work during a two-week festival. The Shubbak Festival is building a window into the Middle East when it is most needed. The festival spoils art-lovers for choice – from poetry, to literature, films, and numerous forms of art, leaving me in a newly found personal "Ramadan Rush" – rushing from one exhibition to the other, trying to immerse myself in it all.
Stop debating stolen history – it's time for modern history
It's true that the ownership of the original Nefertiti statue in Berlin is debated. Egypt has numerously asked for it back, with no success. There are numerous beautiful pieces that are scattered around European Museums, although they rightfully belong in their home in the Middle East. But the question begs itself: will they be protected, respected, and admired in the Middle East? Regardless of the outcome, the Middle Eastern population deserves to see its own history through original pieces, not replicas.
The debates over where this art belongs can go on for years. In the meantime, the region can invest in the artists it has and create a collective space to showcase their art. Mat7af, a museum based in Education City in Doha is no stranger to showcasing Middle Eastern artists, but the age of single-artist collections has passed, especially in an age where there are so many heart wrenching stories that are inspiring beautiful art. This is exactly what London is offering.
The Nefertiti statue may have been horrible, but it was taken down. There are plans to replace it with a statue of a white dove instead. But while the dove is a universal symbol for peace, it is not representative of the Middle Eastern art scene, which is truly erupting. The artists are abundant, the quality is incredible, and the audience is slowly growing. This is a public call for more museums, and exhibition spaces, as well as for private collections to be made public. Jewellery is not made to be kept in jewellery boxes, to be admired only by the owner.
________________
Yara al Wazir is a humanitarian activist. She is the founder of The Green Initiative ME and a developing partner of Sharek Stories. She can be followed and contacted on twitter @YaraWazir