Tears in Syria's Douma and Greece's Kos
Although the reare hundreds of photos showing Syrian suffering, this boy's pain and sadness made us feel absolutely helpless
A New York Times photo gallery last week showed refugees arriving in Europe. The report, entitled "Migrants find an unbridled route to Greece," showed a photo of a Syrian man breaking out in tears of relief after arriving with his family. The photo taken by Daniel Etter showed Laith Majid in tears holding his sons and daughter after they arrived safely in Kos. The group of migrants had crossed over from Turkey's Bodrum on a rubber boat and headed to Greece seeking refuge and a new life.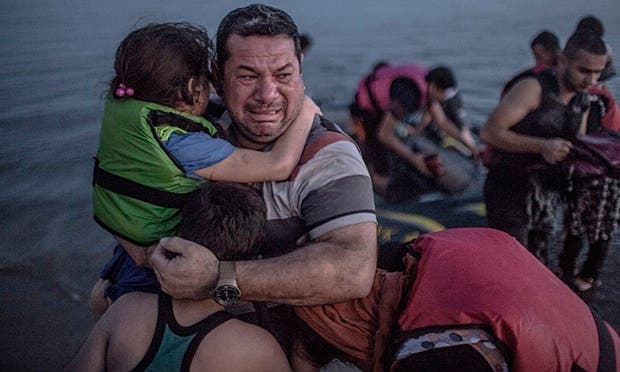 Laith and his family survived twice so far: once when they escaped death from Syria's Deir Azzour and again when they survived the dangerous boat trip which would have cost them their lives. This is why Laith broke into tears of joy once he set foot on Greece. Daniel Etter, a Barcelona-based photographer, captured the image then. He tweeted saying: "I am overwhelmed by the reaction to this family's tears of relief. This is why I do what I do."
The life of many
Laith's photo, in which he's embracing his children and crying out in salvation, reflects the situation of all migrants and refugees. It has been used in the past few days to respond to increasing campaigns against desperate migrants who seek salvation even if it costs them their lives. Migrants' affairs have kept Europe busy especially as the number of refugees is increasing. Laith's photo in which he broke out in tears of joy has become the face of the confused refugee in Europe; however, there are other photos which did not circulate as widely as this one – photos that show people who also survived death and who are also in tears but for different reasons.

Last week, there were dozens of horrifying photos of the victims of the brutal Syrian regime shelling of a crowded marketplace in Douma. The shelling killed over 100 people and injured over 300 others. One of the photos showed a wounded boy whose head was wrapped in a bandage in an attempt to stop the bleeding. The blood, however, stained his face. This boy has also survived death but this survival is closer to extending suffering than to reaching salvation – and perhaps it's not the first time he survives death.
Laith broke into tears because he survived while the boy from Douma cried because he's incapable of celebrating his survival
Diana Moukalled
Although the reare hundreds of photos showing Syrian suffering, this boy's pain and sadness made us feel absolutely helpless. The bandage around his head looked like a halo, but not a halo of light as it looked more like a shroud wrapping the boy despite the fact that he's still alive. His tears mixed with the blood on his face as his expression reflected desperation and surrender. When looking at him, you feel he's incapable of screaming out in pain or of even weeping. His tears effortlessly fell down his face and he looked as if he's surrendered to frustration and to the fact that he's stuck in this painful time. Death almost got him this time and he does not know if he will survive other shelling incidents. We did not know the identity of this boy from Douma.
He definitely has a name and a story. He must have family and friends. What is certain is that he too represents the situation of those stuck inside Syria and whom no one cares about. Haven't many Arab and global media outlets failed to widely cover the Douma massacre, just like the case was with many other massacres the Syrian regime committed?

Laith broke into tears because he survived while the boy from Douma cried because he's incapable of celebrating his survival – that is if you can call that survival.
This article was first published in Asharq al-Awsat on August 25, 2015.
_______________
Diana Moukalled is the Web Editor at the Lebanon-based Future Television and was the Production & Programming Manager with at the channel. Previously, she worked there as Editor in Chief, Producer and Presenter of "Bilayan al Mujaradah," a documentary that covers hot zones in the Arab world and elsewhere, News and war correspondent and Local news correspondent. She currently writes a regular column in AlSharq AlAwsat. She also wrote for Al-Hayat Newspaper and Al-Wasat Magazine, besides producing news bulletins and documentaries for Reuters TV. She can be found on Twitter: @dianamoukalled.