Rest in peace Muhammad Ali, a Muslim missionary for humanity
His clarity and astounding use of words prompted me to tell him that he could have also made a great writer
Even the wildest of ambitious thoughts would not have made Cassius Clay, a boy from Louisville, dream that one day in the not so future he, as Muhammad Ali, would become a global icon of goodwill and an international bridge between cultures and classes.
On a global level, he was a class act on his own. Yes he was an American, but he belonged to all who dreamed of bettering their lives with liberty and freedoms.
Many sports personalities are tied down by their own selfishness and egos. Ali was above that. He won matches and derided his opponents in and out of the ring, but he still managed a healthy respect for them. For him, life had life had to move on.
A man of principle and perseverance who faced the onslaught of a government that tried to destroy him, he stood his ground and supported the Civil Rights movement and the emancipation of his people. He gave his name to many causes. His stand against the Vietnam War and his refusal to go and fight was a heroic act. He was accused of being Anti-American which he vehemently denied, but publicly stated he was not going to participate in a foreign war and kill people he did not even know.
I had the honor of meeting him twice. The first time was when he came to the Saudi-based Arab News offices, which I was the then editor of. He walked quietly into the newsroom shook hands with my colleagues and asked interesting questions. I was impressed with his intellect and knowledge of history.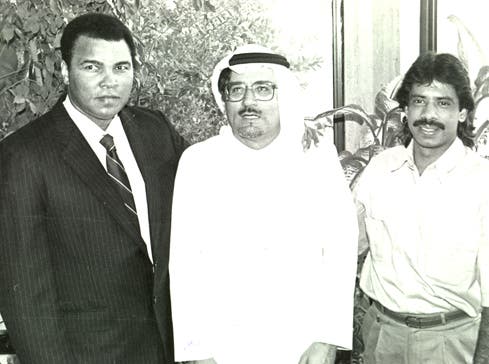 I was impressed by his humility. His humor attracted us too. He even met with the people serving us tea and spent time with them, giving worth to those that many other people may have deemed to be worthless. I have sat with many dignitaries and officials, and have not witnessed the magnitude of his humbleness.
Also visiting me was an icon of squash; the 12 times world champion Jehangir Khan from Pakistan. We went down and in the Arab News entrance, Khan with his squash racquet pretended to strike Ali and Ali moved around doing his famous shuffle taking a jab at him much to the delight of the onlookers.
His clarity and astounding use of words prompted me to tell him that he could have also made a great writer
Khaled Almaeena
On a visit to my house he sat with my family, friends and relatives who literally dropped everything and came to join us at lightning speed. He delighted us with stories about his life and struggles. He stated he was never bitter about the negative incidents in his life, about the four years that were stolen from him. He praised the American justice system and said that while it had flaws, he did not lose his belief that justice will prevail. His clarity and astounding use of words prompted me to tell him that he could have also made a great writer. He jabbed me gently and said, "Well I might just do that one day".
His ambition was to unite the world in love, to build a global platform of tolerance and goodwill. He did not belong to any color, religion or race. A rare specimen of humanity; he belonged to the world.
I have always maintained that in this world there are two types of people; one who live and die and the other who live and go away but not before enhancing and enriching the lives of millions of people of whom they never met. He was and still is a role model for youths, all youths; be they Muslim or of any other religion or race.
Muhammad Ali enriched our lives and brought joy to us all. Rest in peace Ali!
____________
Khaled Almaeena is a veteran Saudi journalist, commentator, businessman and the editor-at-large of the Saudi Gazette. Almaeena has held a broad range of positions in Saudi media for over thirty years, including CEO of a PR firm, Saudi Television news anchor, talk show host, radio announcer, lecturer and journalist. As a journalist, Almaeena has represented Saudi media at Arab summits in Baghdad, Morocco and elsewhere. In 1990, he was one of four journalists to cover the historic resumption of diplomatic ties between Saudi Arabia and Russia. He also traveled to China as part of this diplomatic mission. Almaeena's political and social columns appear regularly in Gulf News, Asharq al-Aswat, al-Eqtisadiah, Arab News, Times of Oman, Asian Age and The China Post. He can be reached at [email protected] and followed on Twitter: @KhaledAlmaeena