In November 2016, Hezbollah celebrated its occupation of the Syrian city of al-Qusayr by throwing a military parade that showcased the Iranian militia's hardware as well as its elite troops that have fought in Syria since the start of the revolution that set out to topple the Syrian regime and dictator Bashar al-Assad. Despite local and international outrage at the time, Hezbollah maintained that its involvement in the conflict on Assad's side was a defensive tactic to protect the Shia religious sanctuaries in Syria and the Lebanese border towns from attacks of Sunni extremist groups, such as the al-Nusra Front and later ISIS.
Hezbollah's recent involvement in the battle for northern Syria and its subsequent losses against Turkey has debunked Hezbollah's stated reasons for its involvement, and has exposed it as merely a tool for Iran's regional pursuits, far removed from the safety or strategic interest of Lebanon or the Shia community that it claims to protect.
Since the start of the Syrian war in 2011, Hezbollah has lost more than 1,500 fighters estimates say, which is fairly high considering the entire Lebanese population is around 6 million, including 1-1.5 million refugees, and that these elite fighters are not easily replaced as some of them have over three decades of operational and field experience. But the recent casualties that Hezbollah has suffered in Idlib – with 14 confirmed deaths so far – are somewhat different, as it places further pressure on them within their own Shia constituency in Lebanon that has historically agreed to send their children to fight in Syria, as long as it is justifiable.
Read more from Rabah: Hezbollah gets its way with new Lebanese government
Fighting and dying to protect the shrine of Sit Zeinab, the granddaughter of Prophet Mohamad and the daughter of Imam Ali, or other religious shrines near the Lebanese-Syrian border is a great honor for Hezbollah supporters. Yet losing one's life hundreds of miles away from any shrine in Idlib while trying to lead the forces of the defunct Assad regime is neither honorable nor noble.
Furthermore, these casualties are hard to justify, even for someone like Hezbollah Secretary General Hassan Nasrallah who spins his party's spearheading of Iran's expansionist projects as one that aims to empower and protect the Shia and the broader Lebanese population.
The video recording of one of Hezbollah's fighters, belonging to the elite Ridwan commando unit, believed to have been recorded minutes before he died, reveals the tragedy that Hezbollah members are subjected to through their continued involvement in the Syrian war. This smiling young man in his twenties reminds everyone, including Nasrallah, that Hezbollah fighters are willing to die for the sake of Fatima al-Zahara the daughter of prophet Mohamad, yet the fighter laments he is in fact dying for nothing, despite his unit's gallant fighting. Leaked voice notes and videos of other Hezbollah militants in Idlib have confirmed that Russia has consciously failed to provide Hezbollah with much-needed aerial support and has equally allowed the Turkish air force to pick Hezbollah and Assad troops out with surgical accuracy.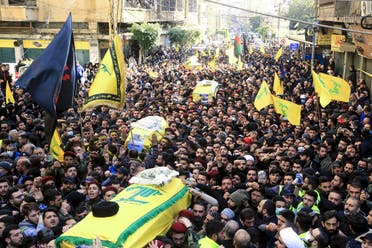 In an ironic twist of fate, at least for Hezbollah, some of these ISIS fighters in Idlib are the same ones that Hezbollah helped escape in the summer of 2017 when it brokered a deal that allowed thousands of fighters to evacuate aboard air-conditioned buses.
Moreover, the involvement of Iran's top militia in the fighting across the region reveals how spread out and overwhelmed Iran is, and how the fate of its militias rests in a decrepit Assad regime that cannot survive on its own. Fighting to keep the Assad regime in place has become a liability rather than an asset. Hezbollah and Iran might have won many battles in Syria, but they are far away from winning any war, as wars are won by large armies with strong economies and allies and not by parading their vehicles and their martyrs to the public.
While Nasrallah will undoubtedly use the death of his men to mobilize his support base, as he has done before, he is more likely to clash with many who see the fighting in Idlib as counterproductive, not to say suicidal for the Shia who are facing economic hardship locally as well as being forced into a conventional military confrontation between Russia and Turkey they are not equipped nor ready for.
The battle for Idlib is an additional reminder to the Lebanese and to the rest of the world that Iran's continued influence rests in its ability to cause trouble. By turning a blind eye and hoping that Iran and Hezbollah will do the right thing and stop their regional games, the world is mistaken. These hopes of a rational and compromising Hezbollah have been killed and buried in the killing fields of Idlib.
___________________________________________________
Makram Rabah is a lecturer at the American University of Beirut, Department of History.