The days of Saudi Arabia absorbing oil market shocks on behalf of the global economy and other producers are probably over. OPEC and its successor OPEC+ are effectively dead and the energy market is now likely to move toward a totally free and fully competitive era, a dramatic shift from decades past.
Two fundamental changes have taken place in the energy market in recent years. First, alternative energy sources have exploded onto the scene, from electric cars to windmills, replacing oil and even gas in many sectors and throwing the long-term viability of the oil sector into doubt. Second, the shale oil sector has emerged in the United States, leading to America's transformation, within a relatively short time, into a self-sufficient oil producer.
These two developments have made and will continue to make a major impact on the economics of the OPEC countries that have traditionally tried to manage production levels so as to maintain higher oil prices. One recent development related to this particular old formula was the formation of OPEC+, basically the coming together of Russia and Saudi Arabia as the two major world oil producers in an effort to coordinate production strategy and achieve what OPEC has accomplished in the past.
Something that people never did fully appreciate, however, is that in past decades, OPEC was essentially Saudi Arabia. The Kingdom positioned itself as the swing producer and adjusted its exports as required to maintain as-stable-as-possible prices under the fig leaf of OPEC agreements, where other members almost always cheated on their quotas. Saudi Arabia, when needed, absorbed the lost production to maintain these "agreements."
Enter Russia a few years ago. Following a short honeymoon period, Russia also got into the game of expecting Saudi Arabia to absorb most of the cuts in production, while it also cheated. In its January 2020 Oil Market Report, the International Energy Agency stated that while Russia had achieved 72 percent compliance with its OPEC+ agreement, Saudi Arabia had achieved 268 percent compliance with its agreements. This means that while the Russians and everybody else have cheated, Saudi Arabia has absorbed the loss of market share and revenue.
On top of this, another important development has taken place.The Saudi national oil company Aramco has been listed as a public company on the Saudi stock exchange and soon plans to make a secondary listing on a foreign exchange, most likely an Asian one, where the market for its oil is now mostly based.
Aramco is the most competitive oil company on earth. First of all, it has the largest reserves, (approximately 50 years at current levels of production) of oil. Second, it is the lowest-cost producer of oil ($9 per barrel), and its financial position is probably the most robust of any oil company, with minimal debt and decades of massive investment in top-quality infrastructure with little expense spared. I've always joked that Aramco was a rich man's company in that it would invest in a Mercedes when a Mazda would do.
Be that as it may, today as a public company, Aramco operates with probably the highest-quality infrastructure and the latest in technology among its competitors. Another factor, often ignored, is that in Saudi Arabia's efforts to manage the oil market and maintain stability, it had invested in spare capacity that allows it to produce millions of barrels more than planned when required. The Kingdom has boosted production many times over the decades to reduce prices when they have shot up in a crisis and to protect the world economy from sudden price shocks.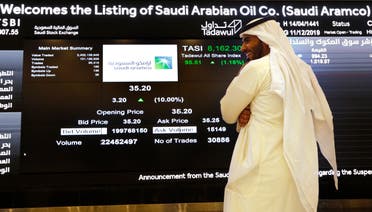 This maintenance of spare capacity was and is a very expensive exercise that Saudi Arabia undertook in an effort to contribute to global economic stability. While it certainly achieved that goal on many occasions, from the first Gulf war to the post-9/11 era, the Kingdom did not receive any external credit for this vital economic exercise. Like OPEC members who expected Saudi Arabia to absorb virtually all cuts, the world powers took it for granted that Saudi Arabia would carry out this balancing role and rarely made even a statement of appreciation to recognize the Kingdom's expensive efforts.
Today Saudi Arabia is under "new management" with a young and dynamic leader, Crown Prince Mohammed bin Salman, who is taking a fresh look at everything in the country and carrying out long-delayed structural, economic, and social reforms. The oil sector, as the lifeblood of the country, is naturally part of these reforms; The Aramco IPO is an important product of one of these reforms.
With the emergence of shale in the US, a private sector industry driven by pure economics, and of alternative energy sources that benefit from aggressive subsidies from governments in the industrialized world, the game has changed for players in the energy field.
Consequently, it would make sense for Saudi Arabia to lessen its attempts to manage the oil market. It can no longer afford to be the central banker of oil and support prices (by cutting production) that may be artificially high but that also encourage cheating and more expensive sources of energy to enter the market.
At the same time, Aramco as a listed company today has a duty to its nongovernment shareholders to maximize its return on equity and long-term viability. That means playing to its strengths, which are its low cost, minimal debt, and massive production capacity, to grab market share and either put its competitors out of business or increase the risk premium for investors in shale, deep oil, and even alternative energy sources by reasserting the lower-cost attributes of Saudi crude.
In the short term, this will inevitably have a painful impact on Saudi Arabia's budget, but the Kingdom does not have much choice. If it were to cut its production, this would do nothing more than allow others to fill in the space, encourage more expensive deep-sea and shale oil (and alternatives) to get to market, and accelerate the demise of Saudi crude as a global product.
The Kingdom will consequently have to reduce its budgetary expenditures while wisely accessing its financial reserves for essential spending as it fights this potentially long-term battle of the fittest for market share in global energy. Ultimately Saudi Arabia's interests are to prolong the era of crude and to maximize Aramco's return on shareholder equity for the coming decades.
Disgruntled Aramco competitors and their supporters screaming "Impulsiveness!" following the collapse of the OPEC+ deal are exactly that. These competitors realize that the era of Saudi Arabia absorbing all oil markets shocks is over, and that going forward, the most likely strategy will be much more free market competition in energy markets, which will play to Aramco's long-term strengths.
____________
Ali Shihabi is a former banker and founder of the Arabia Foundation. He tweets @aliShihabi.