Suffering from a deteriorating economy and hunger, many Lebanese threw caution to the wind and took to the streets to protest their ruling establishment, despite an imposed lockdown to contain the spread of the novel coronavirus.
Soundbites from rallies were touching, at times heartbreaking. One video shows a Lebanese man shouting at a policeman who was trying to disperse protesters. "I'm hungry," the protester said, to which the policeman responded, "I'm hungrier than you." In another video, law enforcement asks demonstrators why they are not wearing masks, a preventative measure against COVID-19. One demonstrator shouted back: "I cannot afford a mask."
Lebanon's economy is in free fall. National currency is deflating at breakneck speed. Basic staple prices are skyrocketing. So, who to blame?
Since the outbreak of unrest in Lebanon on October 17, a debate ensued over the reasons behind economic collapse. Hezbollah lined up scapegoats from the ranks of its opponents, and has been throwing them under the bus, one after another.
Meanwhile, Lebanese protesters have fallen for Hezbollah's game of smoke of mirrors and have engaged in a debate over who should hold public office. Protesters floated the names of a few personalities they approve of, such as Beirut's former Ambassador to the UN Nawwaf Salam, for prime minister, and former minister Nasser Saidi for the Ministry of Finance. Hezbollah and its allies, especially President Michel Aoun and his son-in-law and aspiring successor Gebran Bassil, exploited governmental reshuffle to stuff the bureaucracy with their loyalists.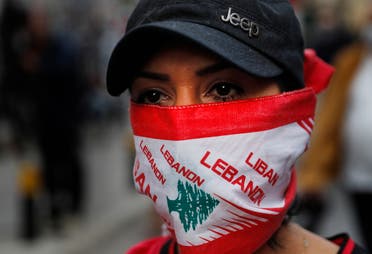 Lost in the fight over who should rule Lebanon is how Lebanon should be ruled. While some Lebanese are more skilled and honest in public service than others, there is little change any ruler can bring if Lebanon's model, which Hezbollah dubs as "the resistance state," persists.
While the debate in Lebanon has so far been about politics a better debate would have been about policy.
Those who know the American political system might know that Republicans and Democrats compete over two models of government. Republicans believe that small government, low taxes, and deregulation resulted in the economic boom of the 1950s and 1980s. Democrats counter argue that bigger government, higher taxes and generous welfare programs guarantee wealth distribution and a better and equitable life for Americans. Democrats cite the 1960s and 1990s as the epochs whose policies they try to revive whenever in power.
Since independence in 1943, Lebanon has had two main government models. One believes Lebanon should be at the forefront of regional battles, especially to redress whatever injustice has befallen Palestinians since 1948. Hezbollah expanded Lebanon's role to global levels, as the party engages in battles in Yemen, Iraq and Syria. Hezbollah threatens war against US troops in revenge for America's killing of Iranian general Qassem Soleimani in Baghdad in January.
The Hezbollah model for Lebanon has been in place since the end of the civil war in 1990. A perpetual state of war killed economic growth, and the country lived in debt, until it could not borrow anymore.
Another model for Lebanon was during its "Golden Years," between 1958 and 1969, when Egypt's Gamal Abdel-Nasser and America agreed to sideline Lebanon. Beirut endorsed regional neutrality. During these years, Lebanon saw an unprecedented economic boom and got its epithet "Switzerland of the Middle East." Thousands of Arabs — escaping nationalization in Egypt, Syria and Iraq — relocated with their capital to Lebanon. The country reaped a windfall of foreign investments.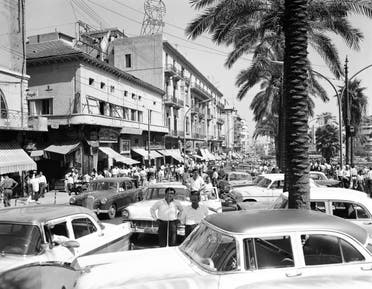 But then regional circumstances turned against the Lebanese. Abdel-Nasser tried to compensate for his 1967 defeat facing Israel by promoting asymmetric war. The Palestinians formed militias and started launching attacks across the Jordan River, inviting Israeli retaliation against Jordan, whose state realized that militias undermine its own sovereignty. When Jordan ejected Palestinian militias, they relocated to Lebanon.
Under pressure from Nasser, Lebanon relented and signed the Cairo Agreement, which allowed Palestinian militias to run amok. Harsh Israeli retaliation followed, and the vicious cycle only ended in 2000, when Israel withdrew from Lebanon and shut down its border. That year, Hezbollah lost its raison d'etre as a group whose mission was to liberate Lebanese land, and thus, showed its true face: An Iranian pawn. The fate of Beirut and Tehran were thus linked, and as US sanctions sank Iran's economy, the Lebanese economy followed.
It follows that Lebanon's salvation would be to delink itself from Iran and restore its pre-1969 years of neutrality. The state should regain sovereignty and merge Hezbollah into the army. This is the debate over policy that is desperately needed in Lebanon, and one that the Lebanese are not having, mainly because of Hezbollah's repression. In the very few times that Lebanese protesters broached this subject, Hezbollah's thugs burnt down the tent where such debate was being held.
Lebanon must switch its policy from its current "resistance state" to its past "regional neutrality." Perhaps then, it will be welcomed back into the global economy and the Lebanese will be able to eat - and buy medical masks.
___________________________
Hussain Abdul-Hussain is an Iraqi-Lebanese columnist and writer. He is the Washington bureau chief of Kuwaiti daily al-Rai and a former visiting fellow at Chatham House in London. He tweets @hahussain.