Lebanon's new phase of uprising: Reflections on violence, clientelism, organizing
The Lebanese uprising, which initially erupted on October 17, 2019, has now officially entered its second phase. Following the global pandemic hiatus, protesters have returned to the streets across the country since April 26, when the Lebanese lira's market exchange rate surpassed 4,000 to the dollar for the first time.
Riots in Tripoli and Saida – Lebanon's two largest cities after Beirut – commanded national attention as protesters expressed their anger and deep frustration at a political and financial establishment that drove the country into economic collapse. The state responded violently, as the army was ordered to fire at the crowds in Tripoli on the night of April 27, leading to the tragic death of 26-year old protester Fawaz Fouad Al-Samman.
Evidently, the same grievances and living conditions that sparked the mass movement initially are all the more flagrant today. Since the start of the nationwide lockdown on March 15, the Lebanese lira has further depreciated while layoffs, mounting inflation, depleting US dollar reserves, and political bickering amongst elites further threaten the livelihoods of the already-struggling residents of Lebanon.
The deteriorating symptoms driving today's mobilizations are indeed not novel, yet this new phase of the movement is bound to distinguish itself from the previous phase in a number of ways.
Popular anger and state violence
First, more violent revolutionary tactics are now the norm. In the first weeks of the uprising, nonviolent strategies were dominant and squares were often characterized by a festive nature.
However, as reality set in and more affluent members of society retreated to their homes, riots became more frequent with protesters increasingly breaking the façade of banks, wrecking public and private property, and deploying Molotov cocktails. The second wave of the uprising will surely be associated with those dynamics.
Undoubtedly, the establishment holds a clear advantage in fighting power during violent confrontations. Nonetheless, calling for pacifism at a time when protesters struggle for their lives and that of their families signals a lack of understanding of the nature of the state. This is not a call to arms. Rather, it is a call to understand that political elites will never relinquish power by their own means and that the state, by nature, is violent.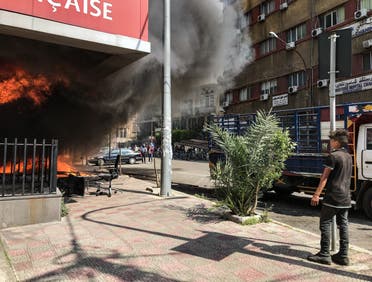 Violence is systemic and structural, symbolic and material. While it is reproduced in the present, its effects are also transmitted transgenerationally. Simply, violence is all around us and this should be recognized before engaging in elitist criticisms of protesters' actions.
No social security, more clientelism
Second, and on a different note, worsening economic conditions and additional austerity measures are bound to make the most vulnerable even easier targets for the clientelistic webs of sectarian parties.
Indeed, support for traditional parties is not a result of what is labeled as culturally entrenched sectarian identities, nor is it foolish blindness to wrongdoings and abuses of power. More often than not, it is either due to tangible socio-economic benefits – in the form of healthcare, education, legal services, job security, and financial assistance – or due to physical intimidation and fear of social sanctioning.
As poverty increases, and with a neoliberal state designed not to provide universal safety nets, many are bound to accept help from the only source they find in sectarian parties. Political parties' responses to the pandemic already signaled their adamancy on rebuilding their clientelist bases.
Some are rejecting conditional charity, though, as they recognize that no form of patronage is sustainable and capable of covering all subsistence needs from food and house supplies to rent, electricity, water, healthcare, and schooling.
The sole solution for the people is drafting a comprehensive and long-term economic plan that adequately redistributes wealth in one of the most unequal countries in the world, while also focusing on shifting away from the rentier model toward a productive economy that generates jobs and provides social protection. Needless to say, however, that the establishment is dismissive of such demands as it caters to its private interests and those of its partners.
Potential class-based alternatives?
To oppose the sectarian elites and their exploitative economic system, grassroots-based alternatives need to become more credible actors in the political arena. The only Arab revolutions that were relatively successful in achieving political transitions are Sudan and Tunisia. Beyond other contextual specificities, what distinguished these bottom-up movements was their strong organizational structures, namely in the form of workers' unions and neighborhood committees.
Labor unions in Lebanon used to be strong and relevant actors until their repression and eventual co-optation in the late 1990s. This effectively ended citizens' ability to formally organize along class identity, which is the main antithesis to sectarian identity.
In the early stages of the uprising in October 2019, many recognized the need to rebuild those networks, resulting in the emergence of various alternative unions bringing together teachers, doctors, engineers/architects, media workers, NGO employees, and artists among others. Looking to transcend sectarian politics, these new groups seek to become structures capable of fighting for the socio-economic interests of their members and reigniting the dormant labor struggle.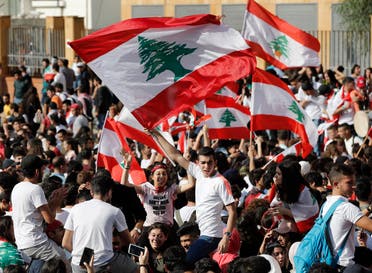 In parallel, emerging political groups such as LiHaqqi (For my Rights) and Mouwatinoun wa Mouwatinat fi Dawla (Citizens in a State) are gradually expanding their bases and gaining much-needed experience and exposure as political entities. These progressive actors are also looking to move away from the hierarchical, patriarchal, and outdated dynamics that have traditionally defined ruling parties.
Earlier this month, LiHaqqi held internal elections in what was a true exercise in participatory democracy. Over 100 members were elected to different roles and positions within the group, including a Council of Delegates comprised of over 50 individuals representing different geographic and sectorial roots, as well as a secretarial, finance, media, political relations, and political positions committees, each comprised of 4 to 8 members. All committees and councils abide to a balance in genders and operate according to a thorough organizational structure.
These political groups and unions surely face various internal challenges and are still not ready to overtake traditional political parties as the formal representatives of the people. Yet such attempts at class-based organizing help in politicizing the larger public, particularly the youth, and give some hope that society will eventually succeed in determining its own future, away from the warlords-turned-politicians and their business partners.
_______________________________
Nadim El Kak is a researcher at the Lebanese Center for Policy Studies (LCPS) and research
associate at Lebanon Support. He tweets @NadimElkak.