The Government of Jordan's response to the coronavirus pandemic was as swift as it was bold. And it worked: After ten weeks of severe restrictions it can claim real success. As of June 20, just over 1,000 people have tested positive for COVID-19, and only nine have died.
From the onset, Jordan made it very clear that the millions of refugees within its borders would be part of the national coronavirus response plan.
"We treat every person inside of our borders, whether you're a Jordanian citizen or a refugee, in the same manner," said His Majesty King Abdullah II during a recent interview with CBS news.
Read more: Coronavirus prevention extremely difficult in refugee, IDP camps in Middle East
But vulnerability among many communities in Jordan, including among refugees has increased, and now is the time to begin planning for the massive effort that will be required to recover from the coronavirus crisis.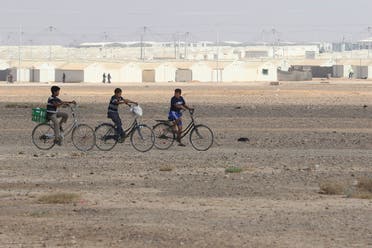 Prior to the pandemic, Jordan has been facing economic and fiscal difficulties due to regional crises that resulted in high unemployment and poverty rates, and rising prices of goods. Additionally, Jordan hosts 3.6 million refugees, adding massive pressures on the absorptive capacity of the infrastructure and public services that are already weak. Among Jordan's refugee population are 1.36 million Syrians, 657,000 of whom are registered with UNHCR, of which only 10 percent live in camps, while the majority live among host communities.
Read more:
Jordan seeks $6.6 bln from international donors for Syrian refugee crisis
Donors pledge $130 mln to UN agency for Palestinians in coronavirus appeal
Containing the virus in Jordan has come with a devastating socio-economic impact across all communities. Prior to the coronavirus crisis, most of the Syrian refugees living in urban areas were able to support themselves. But within a matter of weeks, hundreds of thousands of refugees lost their livelihoods, and vulnerable households have slipped below the poverty line. The pandemic threatens to set back recent gains made toward self-reliance for refugees and has multiplied the need for humanitarian aid. Recent assessments show that more than a third of refugees have reported losing their jobs. Women have been particularly impacted by the crisis. Food security is a significant concern with a third of assessed households reporting they don't have enough food. Many Jordanians find themselves in very similar circumstances, particularly those in host communities which generously opened their homes to refugees fleeing from Syria so many years ago.
A large-scale increase in vulnerability has become the defining feature across different communities in the Kingdom, affecting Jordanians and refugees alike. While the world is still in the middle of fighting the pandemic, we must plan ahead and come to grips with the massive effort that the recovery from this crisis will entail. Maneuvering in this unknown territory needs strong leadership, skillful coordination and sustained commitment from the international community to support Jordan, one of the largest refugee-hosting countries in the world. Poverty alleviation will assume center stage in this process, and it must include continued and sustained support to refugees. Whether Jordan now faces a harsh winter or a mild ice age depends on one key question: Will global solidarity survive the coronavirus?
End note: On 22 June, the Government of Jordan has launched the Jordan Response Plan 2020-2022. Over $2.3 billion is required for 2020 for critical funding requirements. This excludes the financial needs derived from the COVID-19 pandemic.
____________________________
Dominik Bartsch is the UNHCR Representative to Jordan, and Dr. Wissam Rabadi is the Jordanian Minister of Planning and International Cooperation.