Locked up: The struggle faced by migrant workers with coronavirus in Lebanon
"I didn't really know why I was locked up – all I knew was that police were surrounding our building and that we were told we all had to stay inside," said 26-year-old Hassan, from Bangladesh, when I first met him during a Doctors Without Borders' (MSF) response mission in the Ras Al Nabaa neighborhood of the Lebanese capital Beirut.
MSF had just launched a rapid response in Ras Al Nabaa after more than 70 migrant workers, mostly Bangladeshis all living in the same building, had tested positive for COVID-19. Hassan looked understandably worried.
Across the street was a second quarantined building, home to several Syrian refugee families, and where we'd eventually also respond. The residents of this second building had all tested negative for COVID-19 but had been put in isolation by the authorities as a "security" measure.
Since March, MSF has been carrying out various activities in Lebanon in response to the COVID-19 pandemic. Some responses were longer than others, and some are still ongoing. With coronavirus still a threat, we maintain some capacity to deploy rapid response teams, whenever and wherever they are most needed.
As soon as we heard about the situation in Ras Al Nabaa in late May, we deployed a team as soon as possible. In agreement with the Ministry of Public Health, we deployed a medical team to collect random samples from people who might have been in contact with those migrant workers who had tested positive for COVID-19.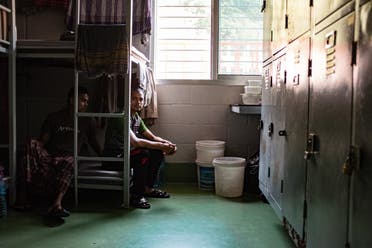 Awareness and medical support are at the heart of MSF's COVID-19 response, and we knew that people living in the Ras Al Nabaa buildings had received neither so far. For days, internal security forces had surrounded the buildings, preventing residents from going outside, going to work, seeking healthcare or buying food and water.
Nestled in one of Beirut's tight streets, entering the first building presented us with a dreadful scene. The three-story building is home to more than 170 men, many of whom work in the sanitation industry for various companies in Lebanon. We found more than 40 people sharing the same apartment, lying on beds stacked one above the other in rooms with minimal ventilation that made practicing proper hygiene impossible.
Read more:
From the coronavirus frontlines: Lebanon's hotline volunteers work around the clock
Contact tracing key to keeping Lebanon's coronavirus cases low
On arrival, we initially intended to conduct a health promotion session for the quarantined people on how to limit the spread of COVID-19. But we quickly realized that our audience had more pressing concerns. The dim light reflected the fear in their eyes. They wanted to know was going to happen to them.
One week earlier, a resident of the building had tested positive for COVID-19. Without his knowledge, the Ministry of Public Health had carried out contact tracing and went on to test everyone in the building with no prior notice. Then, without offering any explanation, the authorities placed the positive COVID-19 patients in compulsory isolation within the building and took people who tested negative to a hotel for quarantine.
In Lebanon, isolating people with confirmed COVID-19 is recommended not only for migrant workers but for anybody who has the disease to slow the spread of the virus. However, Hassan and other residents of the building were forced into total lockdown by the security forces without a clear explanation of their medical condition or what was happening to them. They shouldn't have had their movements restricted without knowing the reason, and they should have been informed about their medical condition. These are basic rights that should exist for everyone.
The men we talked to during our response were wondering how and when this situation would end. We explained to them that they had all tested positive for COVID-19 – something that hadn't even been clearly explained to them until this point. We talked about the protective measures they should take to avoid spreading the virus further, including wearing masks, washing their hands and trying to keep as much distance from others as possible, even within this confined space that they all had to share.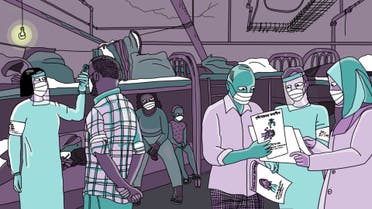 One of them interrupted and said with grief: "But we don't have any water – how can we wash our hands?"
Realizing the distress these men were in, we quickly paired our efforts to promote health with proper psychological support.
Read more: Migrant workers on weeks-long strike in Lebanon close to deal with employer
Our team's response efforts in that particular building lasted for 18 days. As the days passed, various organizations, such as the Lebanese Red Cross and nearby mosques, donated food and water to the residents. People from the neighbourhood asked the men to pick up their food from the ground in front of the building before quickly returning inside.
"Faster, faster, pick it up and go inside," was the sentence that Uddin, one of the residents, heard when he went outside to collect the donated food.
Beyond lacking food and water and being locked in a building, these men were afraid and had to deal with the stigma attached to them given their situation. During one of our visits, we noticed a crowd of people gathered on the street corner. They were shouting and demanding the return of migrant workers to their countries of origin.
"I heard the people scream, and I knew it was the residents of the area, complaining about the fact that we lived there among them," said Hassan. I could see on his face and the faces of other residents that the protests had impacted their mental health. Not only did their terrible living conditions mean they were at a higher risk of contracting coronavirus, they also had to face and hear people's rejection.
Migrant workers, living in a country that is not their own, often face a certain stigma, and this was exacerbated by receiving a positive COVID-19 test. It led Hassan to wonder if coming to Lebanon for work in the first place had been a mistake.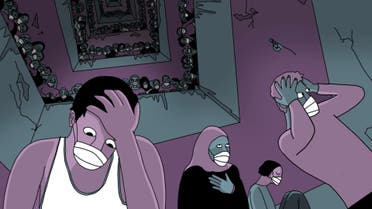 "I personally would prefer to go back to Bangladesh at this point," he said. He explained that, as if experiencing COVID-19 and racism had not been bad enough, he had also been heavily impacted by Lebanon's current economic crisis.
"In my country, I might at least save some of the money I earn," said Hassan. "Here I can't save anything anymore, and I can't even transfer any dollars to my family back home."
Read more:
Lebanon's supermarket shelves left empty amid panic buying
Lebanese seek to fly out of dire economic situation as Beirut airport reopens
His salary is just a quarter of what he earned just a few months ago.
The onset of the coronavirus lockdown in Lebanon – on top of the ongoing economic crisis – meant that many workers faced a further reduction in access to healthcare. The stigma they face in Lebanon has also increased since the beginning of the pandemic. Our recent rapid response in Ras Al Nabaa is just a brief picture of this situation.
Coronavirus does not differentiate between migrants, refugees or Lebanese citizens, and our response to the pandemic shouldn't either, not only as humanitarian workers but also as individuals. People's ability to access healthcare and to receive proper treatment and information about their medical condition should not be defined by their status in Lebanon.