They were perhaps 2,000 stranded Syrian returnees. Women, children and men sheltered on hilltops from the heat, trying to find shade under the scattered olive trees that offered no shadow. They carried half-empty jerry cans with water and waved at passing cars to ask for help.
This is not a scene from a Hollywood movie.
This is no man's land between Syria and Lebanon – a stretch of a few kilometers where people are stuck as a result of COVID-19 politics or other legal issues, encapsulating the cruelty of conflict and the pandemic.
As the fiercest fighting winds down, Syrians are now hit by another wave of suffering – this time economic. Sanctions and rising unemployment have spurred an economic collapse as inflation rises and businesses that scraped by during the conflict are now shutting down. Hunger is rising as families skip meals and medicine shortages increase. The Red Cross is working to increase humanitarian access to provide much needed aid.
A few days ago, I traveled to Syria from Lebanon by land, crossing a border closed for citizens but open for humanitarian organizations, including the Red Cross and Red Crescent personnel. I saw the same people in the same place under the scorching sun several days later on my way back to Lebanon from Damascus. While some have gained legal entry, others are still out there, sleeping under the open sky. As I write, my colleagues in Syria are looking for ways to assist those that may still be stranded.
The devaluation of the local currency and the constraints placed on international money transfers are driving Syrians to extreme poverty. Syrians living abroad now struggle to send $100 to $200 to family members still living in Syria.
Concretely, what does this mean?
It means that for so many reliant on aid sent from abroad, life has become significantly harder. Daughters and sons who would typically tend to their elder parents, as tradition has dictated for centuries, are no longer able to do so.
My message is not a political one, it is purely humanitarian. We at the Red Cross and Red Crescent have a neutral stance against the sanctions. Our work as humanitarians aims to ensure that people do not die or suffer because they lack access to basic needs, including food, water and medicine.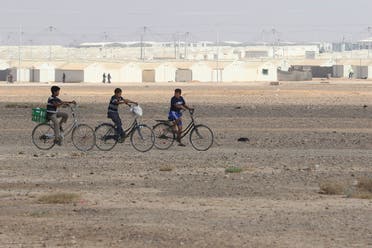 In Syria, innocent civilians are paying the price of failed diplomacy and as a consequence suffer unnecessarily.
During my visit to Damascus, many Syrians told me, "Either we die of hunger, of war, or we die of COVID-19. It doesn't matter."
Between conversations, people asked if we could send them coffee and tabasco sauce. These items don't make it into Syria anymore. While some may say these items are luxuries, it is our view that access to basic goods is essential to preserving human dignity.
In Damascus, I met the Syria Arab Red Crescent (SARC) team whose primary concern was a lack of personal protective equipment (PPE) as they continue to carry out their work in the communities and refugee camps amid the ongoing pandemic.
They use the available PPE as best they can and reuse supplies. Between missions, they sterilize the PPE if there is time before the next emergency call.
With some 11,000 SARC volunteers at work across the country, our current PPE supplies and resources are being exhausted at high speed.
In the dialysis wing, doctors told me how they lack spare parts for dialysis machines and how some patients are unable to access the facility because of the conflict. In another ward, adults and children who had been disabled by the conflict tried on prostheses.
Yet another floor was being converted to boost ICU capacity as medical workers anticipated additional patients infected by COVID-19 would be arriving.
Read more:
Watch: Hunger rises for Syrian refugees in Lebanon
Coronavirus: Isolated Syrian refugee camp with no doctors or aid fears outbreak
Coronavirus: Syrian refugees in Lebanon fear outbreak in crowded camps
Near the main doors of the SARC headquarters is a wall displaying the names of the 62 staff and volunteers who lost their lives in the line of duty.
During the trip, I met with Syrian officials, UN, and International Committee of the Red Cross colleagues to discuss increased access to expand humanitarian reach in Syria.
Serious international diplomacy efforts are needed to halt the suffering and address the challenges that Syrians face, including security, economic, and the added stressor brought by coronavirus. Increased humanitarian funding and ceasefires will allow us more access, save more lives, and simply offer more protection to average people.
We, as humanitarians we will continue to do our part to alleviate the suffering, but it will not be enough. An urgent, just, and durable political solution is what is needed to put the country on a path to recovery that would see livelihoods returned.