How is the economy likely to affect Trump's reelection chances?
The economy's performance during the last year – rather than the cumulative performance during the last four – is a primary determinant of an incumbent US president's reelection chances. In that respect, the coronavirus pandemic could not have come at a worse time for Donald Trump.
Can he still win the 2020 elections?
Like all American presidents, Trump is aware of voters' economic myopia. In the pre-coronavirus world, he was saving some of his economy-enhancing tools for 2020 to boost his bid for reelection.
For example, Trump has gradually increased his verbal criticism of Federal Reserve Chair Jerome Powell's failure to maintain low interest rates, with the rhetoric becoming especially sharp in 2019. Trump was seeking interest-rate cuts during 2020, much as Richard Nixon did in 1971 when his administration pressured the Federal Reserve into pursuing an expansionary monetary policy, helping secure Nixon's reelection in 1972.
Trump was also pursuing a trade deal with China, ending the dispute that had slowed global economic growth for three years. And despite his highly fractious relationship with the Democrats, Trump always had the option of negotiating a large-scale infrastructure spending program with House Leader Nancy Pelosi if he was willing to make concessions on issues such as immigration.
Yet, like of all us, Trump's 2020 plans were thrown into disarray by COVID-19, damaging his reelection prospects. Trump's response indicates a fixation on short-term economic growth, in an effort to appease voters.
Initially, he dismissed the pandemic, and affirmed that business would go on as usual. Once cases began to increase, he refused lockdowns, having seen the immediate economic damage they wrought elsewhere. After accepting the need for a lockdown, he demanded a rapid reopening. Trump was also happy to support the economic aid packages proposed by the Democrat-controlled House, despite his stark political differences with House Speaker Nancy Pelosi. More recently, as COVID-19 cases have started to rise, Trump has rejected new lockdowns by claiming that the increase is purely an artefact of higher testing.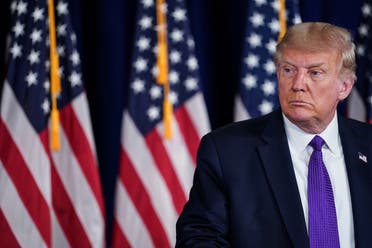 Unfortunately for Trump, his efforts have failed to prevent unprecedented contractions in US economic activity.
During the second quarter of 2020, unemployment soared from 3.5 percent to 14.7 percent, and the economy shrank at an annualized rate of 33 percent. If American voters' historical emphasis on the near-term performance of the economy persists, then these figures paint a grim picture for Trump's reelection bid. Ominously, election polls heavily favor Trump's opponent, Joe Biden.
Trump's speeches during the pandemic indicate that he anticipated this possibility, as he has been trying to attribute blame for the weakening economy to a variety of non-White House actors.
Those calling for lockdowns, including Democrats and the public health community, have been accused of willfully sabotaging the economy in an attempt to derail his presidency. Trump's frequent refusal to wear masks in public is arguably his way of undermining those in favor of lockdowns, as it signals a wholesale rejection of their arguments, whatever scientific evidence they may rest on.
China has been prominently accused by Trump of being the root cause of the crisis, and of amplifying the fallout through mismanagement. His decision to withdraw the US from the World Health Organization is a highly visible manifestation of this belief. Even the US' longtime allies, the European Union, were tacitly apportioned blame when the US unilaterally suspended travel to Europe without prior coordination.
If we are to believe the polls, then this political strategy was partially successful until late May, as his position vis-à-vis Biden was largely stable. Since then, the gap has started to widen, and a key reason has been the emergence of clear international variation in success with dealing with the pandemic.
In March and April, every country in the world was devastated economically, no matter the policies it pursued, and so an American voter could reasonably have concluded that their worsening predicament was the result of extreme bad luck rather than policy failure.
Read more:
US elections: Security official says he cannot send law enforcement to polling sites
US elections: Kanye West disqualified from presidential ballot in four states
Trump moves to advance coronavirus treatment, possible COVID-19 vaccine: Reports
However, in May and June, European countries began to reopen their schools, restaurants, and professional sports leagues. Meanwhile, reopening schools seems a distant policy for most regions in the US, while Major League Baseball and the National Basketball Association have only just resumed play. These salient differences between the US and Europe make American voters actively question the government's management of the crisis.
Politically speaking, the three months that remain until the November election are a lifetime, and so Trump still has an opportunity to right the ship, or an unforeseen scandal could scupper Biden's presidential bid. Moreover, polls can be misleading: A 2016 Washington Post article had the headline "No candidate in recorded history has overcome Trump's poll deficit this late." Given the state of the economy, a Trump victory in 2020 will require a new dose of electoral magic.