One genuinely assumes that the people of Lebanon have experienced the worst they can, especially after the August 4 Beirut port explosion, the destruction of which still echoes in the sleepless nights of many Lebanese as they try to confront their trauma.
Yet the visit of Ismail Haniyeh, deputy head of Hamas, to Lebanon this week clearly shows that Lebanese' trouble and suffering is far from over.
Haniyeh's visit to Beirut comes as Lebanon tries to muster international support to salvage what remains of its economy and rebuild its ravaged capital. Lebanon is currently at a crossroads and is trying to woo Western donors to bail it out, many of which designate Hamas as a terrorist organization. The US has designated Haniyeh as a terrorist and has sanctioned him.
The fact that Haniyeh arrived in Lebanon from Turkey where President Recep Tayyip Erdogan received and granted the Hamas leader Turkish citizenship makes his Lebanon incursion even more perilous, as it clearly reflects the extremist nexus between Turkey, Qatar and Iran – all of which have shares in Hamas.
The real story of Haniyeh's visit is not that Hezbollah welcomed him warmly, nor that Hamas used his visit to reaffirm its dominance over the Ain al-Hilwi camp, one of the biggest Palestinian refugee camp, but rather that Haniyeh received a royal reception by the Lebanese state and from a member of the political elite, Speaker of Parliament Nabih Berri.
Read more: Lebanese officials hit by US sanctions over corruption, support to Hezbollah
Haniyeh's meeting with Nasrallah is somewhat expected as both are member of the same pro-Iran axis. But the question remains why would the Lebanese state grant Haniyeh and his delegation a visa to tour the country, and why would Berri and the outgoing Prime Minister Hassan Diab extend to Haniyeh the honors reserved for the legitimate representative of the Palestinian people, Mahmoud Abbas, which Hamas continues to undermine and challenge thus, dividing the ranks of the Palestinian people.
Perhaps more importantly, while the Lebanese state treated Ismail Haniyeh as a statesman, his actions reflected that of a militia leader that has no respect for Lebanon nor its frail sovereignty. At Ain al-Hilwi, Haniyeh was hoisted up by his supporters who were armed to the teeth, in a blatant disregard to the Mahmoud Abbas' brave commitment to "abide by Lebanon's decision on arms in refugee camps." Lebanon historically has not involved itself with security inside the camps, saying that the matter will be left to Palestinians living there.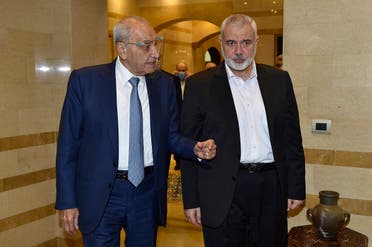 Hamas's military parade thus comes as a threat to Lebanon as it reminds them, as well as the United States and Hezbollah, that the extremist group has recourse to the arms within the camps.
From the camp, Haniyeh threatened that Hamas' rockets could reach Tel Aviv and beyond. However, this threat has no real weight, and he is better off issuing these threats from Gaza, instead of Sidon, which is 453 kilometers from Tel Aviv.
Hamas, Hezbollah and their fellow followers are not in the business of fighting Israel – at least not as a priority for the time being – but rather they benefit from Iran, Turkey and Qatar's ongoing efforts to promote discord and conflict.
If the Lebanese had any hopes of French President Emmanuel Macron's initiative set forth after the explosion succeeding, Haniyeh's unwelcomed visit laid these hopes to rest. Much of Lebanon's wishful thinking dictates the Arab Gulf states offering financial assistance to Lebanon provided the latter succeeds in containing Hezbollah and maintaining neutrality, something that France promised to achieve with its proposed plan.
Haniyeh further used his visit in Lebanon as a platform to attack the Gulf states and to target the recent United Arab Emirates-Israel peace deal. This will only add to Lebanon's isolation vis-a-vis the Arabs, and threatens the 300 Lebanese expats who work in the UAE, who might be sent home for the actions or rather inactions of their government.
Read more:
Timeline: Security incidents in Lebanon on the rise as economy worsens
Lebanon moves to reform sponsorship system, but abolishing kafala still far off
Lebanon's sinking economy set to plunge further after Beirut port explosion: Report
The Lebanese state would have been wiser to deny the visa to Haniyeh or rather to treat him as the true rebel rouser he really is. Repeatedly, Lebanon has allowed Iran to interfere in domestic affairs, including allowing Qais al-Khazali, the leader of the Iran-backed, Iraq-based Asaib Ahl al-Haq militia, to tour Lebanon's southern border. Lebanon has also received the Venezuelan and Iranian foreign ministers who have only delivered empty promises of economic salvation. These moves show the world that
Lebanon has no wise men, only archaic politicians whose time has come.
Haniyeh might have left Lebanon, but the damage his visit has done to Lebanon is only matched by the docility of the Lebanese who remained silent while their country was peddled out to serve Iran and its fathomless appetite for destruction.