Personal reminiscences on Mandela
I never imagined that I would be sitting with Nelson Mandela almost alone in the cool evening desert outside Riyadh
He was 95. He was hospitalized in June this year with a lung infection. Although he went home in September, his health continued to deteriorate. Still, the passing away of Madiba - Nelson Mandela - has plunged the whole world into grief.
For months, people the world over followed the news of his illness with keen interest and anxiety.
They were not publicity-hungry leaders or politicians but ordinary people — those who believed in the freedom and dignity of man for which Mandela fought and nearly sacrificed his life.
I read about Mandela and learned about him from many of my then "Indian and colored" South African friends in London. We were students and politics was our area of interest.
To many of us, apartheid was a dirty word. However, it existed in all its abhorrence and apart from some pockets of opposition, the West was unmindful of the plight of the almost enslaved South African blacks living in Bantustans.
I also remember being given a "Free Mandela" T-shirt by a friend from New Zealand.
Years passed by quickly and I found myself working in the media. This helped me probe more deeply into the life of this extraordinary man.
I had read a lot about him, about the notorious Robben Island, BOSS (The South African Bureau Of State Security) and other dark secrets of the regime of Hendrik Frensch Verwoerd who as prime minister of South Africa from 1958 until his assassination in 1966 had with brutal efficiency implemented the concept of apartheid, the worst form of racial segregation the world has ever witnessed. But even in my wildest dreams, I never imagined that there would come a day when I would be sitting with him almost alone in the cool evening desert outside Riyadh.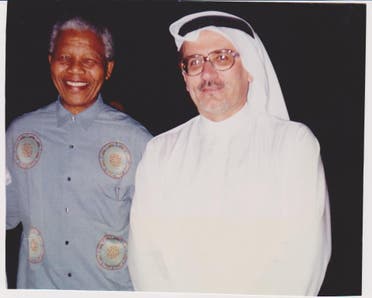 Upon his release from jail in 1990, Mandela came to Riyadh. This, I think, was part of a tour of countries in Africa and abroad to thank those who had supported the ANC during the years of struggle. Diplomatic relations between South Africa and Saudi Arabia were formalized during Mandela's visit to the kingdom in November 1994.
If I remember correctly, during his first visit Mandela had his eyes checked in a Riyadh hospital. Years of breaking rocks in a quarry as a prisoner in Robben Island had taken a heavy toll on his eyes. I am sure Mandela might have considered it a small price to pay for opening the eyes of the whole world to the brutalities and inequities of the apartheid regime in South Africa.
My first meeting with him was a pleasant one, and he looked at me with a glint in his eyes as we discussed South Africa, its geography, people, history and sports.
"Are you sure you are not an Afrikaner," he asked me as I poured him a cup of tea.
We met several times afterward and once he asked me: "Who is this gentleman Ahmed Deedat? Everyone here is asking me about him."
Ahmed Deedat, the South African Islamic preacher, lived in Durban and Mandela had not heard about him. This gave me some idea of the life to which he had been condemned by the white racist regime. Now it is easy to forget but the fact remains that Mandela had been incarcerated for 27 years with little or no access to the outside world.
Mandela was frank. In one of our meetings, he said he was glad that the Socialist system was over by the time he was released from jail. It was a changed world with a free flow of information.
He spoke of inner struggles, soul-searching moments and times of stress. He told me that he had no bitterness or rancor. He had to save a divided nation and pursue a policy of reconciliation. This will, of course, be one of his enduring legacies. As South African President Jacob Zuma said in his message of condolence: "We'll always love Madiba for teaching us that it is possible to overcome hatred and anger in order to build a new nation and a new society." Zuma's words should give hope even to those who feel unease at some recent developments in South Africa.
Tribute
During our meetings, Mandela paid tribute to his fellow freedom fighters who joined him in his struggle against the hated apartheid regime, many paying the supreme price.
He was a statesman who thought of the unborn generations of South Africans, not a politician. "It's too late to start in politics in your seventies," he told me in one of our meetings.
He was frugal and did not care for the trappings of office. Adoring crowds which could turn pop stars green with envy had no effect on him
Khaled Almaeena
During the times I met with him, Mandela looked tired and exhausted. He was physically with us enjoying the fresh air of the desert, but his heart was in South Africa. He was always thinking of its challenges, its future.
During a visit to Pretoria with a group of business people from Saudi Arabia, I found him more alert, and with that gleam in his eyes, he said as he shook my hand: "Here is a Springboks (the South Africa national rugby union team) supporter." I felt overwhelmed.
In the desert outside Riyadh, we spoke about the African National Congress. I mentioned Yasser Arafat who was engaged in a similar struggle for the freedom and dignity of his people. Mandela said no people should be subjugated and held against their will.
He had many Jewish friends but was a strong supporter of Palestine and was consistent in his support. "We know too well that our freedom is incomplete without the freedom of the Palestinians," he said. He was highly critically of those who "incorrectly think that the problem of Palestine began in 1967." Israel, he said, has deprived millions of Palestinians of their liberty and property. "It has perpetuated a system of gross racial discrimination and inequality. It has systematically incarcerated and tortured thousands of Palestinians, contrary to the rules of international law. It has waged a war against a civilian population, in particular children."
Mandela knew that injustice and cruelty could assume forms other than apartheid and spoke against them even if it invited the displeasure of the sole superpower in the world.
Every moment of Mandela's life was under scrutiny. He practiced what he preached.
He was frugal and did not care for the trappings of office. Adoring crowds which could turn pop stars green with envy had no effect on him. What a pity his family members and some of his supposed followers are fighting over the revered leader's financial and political legacy! Worse still, they are quarreling over how he will be remembered and how his story will guide the country he led to liberation.
Mandela was a towering figure behind prison bars and out in the open. He will continue to be a beacon of hope and strength for all those who believe in the freedom and dignity of man. And to those, like Palestinians, who have been denied such democratic rights, he will continue to be an inspiring model.
Rest in Peace, Madiba.
This article was first published in the Saudi Gazette on Dec. 7, 2013.
______________________
Khaled Almaeena is a veteran Saudi journalist, commentator, businessman and the editor-in-chief of the Saudi Gazette. Almaeena has held a broad range of positions in Saudi media for over thirty years, including CEO of a PR firm, Saudi Television news anchor, talk show host, radio announcer, lecturer and journalist. As a journalist, Almaeena has represented Saudi media at Arab summits in Baghdad, Morocco and elsewhere. In 1990, he was one of four journalists to cover the historic resumption of diplomatic ties between Saudi Arabia and Russia. He also traveled to China as part of this diplomatic mission. Almaeena's political and social columns appear regularly in Gulf News, Asharq al-Aswat, al-Eqtisadiah, Arab News, Times of Oman, Asian Age and The China Post. He can be reached at [email protected] and followed on Twitter: @KhaledAlmaeena