Russia sheds a tear on Victory Day, while history rewrites it
Victory Day should never be politicized. This is a memorial day for all peoples living on post-soviet territory
"Why do brides here on their wedding day come and lay flowers on the tomb of Unknown Soldier behind the Kremlin Wall? And do you still hold military parades on the Red Square to flex your muscles at the West?" - asked my good friend, an American professor, who has come to Moscow for the first time...
On May 9, Russia and peoples of post-soviet republics celebrated Victory Day in The Great Patriotic War, a distinguished period from June 22, 1941 to May 9, 1945 during World War II; the Nazi's invasion in the Soviet Union to the victory over Nazi's Germany and its European allies.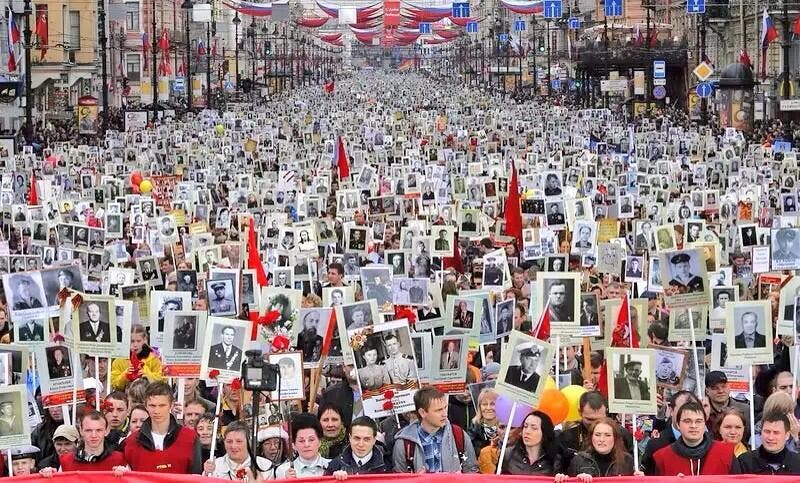 The Great Patriotic War took over 26 million lives. The Siege of Leningrad also known as the Leningrad Blockade claimed alone more than 1 million lives, as people were dying during 872 days of the Siege due to severe starvation.
Not only did soldiers die on the battlefields, where they mostly preferred to fight until death than to surrender, but civilians were exterminated as they were not considered as humans according to Nazi ideology. You can hardly find a family in Russia and all other ex-soviet republics, which was not touched by the fire of that war.
This is a holiday with tears; numerous victims of that War are commemorated and the victory over Nazism is celebrated. A day when we pay a tribute to ordinary people, soldiers, home front toilers, who fought for their motherland and defeated Nazism for the sake of many people, of all future generations with their selflessness and bravery, their sweat and blood.
Politicization of history
Nowadays we are becoming witnesses to speculations over historical facts, attempts at revising history to please some dubious political movements and ideas. The politicization of history has come with a role towards the exoneration of the Nazi crimes and removal of the feats of Soviet soldiers in some post-soviet countries from their history pages. This has come as a reaction to the historical injustice and offenses they have faced. Some have gotten used to accusing the Soviet Union for crimes and repression against some ethnic groups, forgetting that practically the whole Soviet people, multinational and multiethnic by its composition, has suffered years of extermination and many were executed by firing squads, and many were imprisoned regardless of their nationality.
The current events in Ukraine, where the Nazi-admirers play not the smallest role, are just a part of the trend,that for the moment remains with no adequate reaction. For example the Kherson governor, appointed by Kiev, addressing the veterans on the May 9, called Hitler a "liberator."
You will have hardly found coverage of this incident in the international media, and of course no reaction on behalf of international leaders. This is just an example of revising history and the rebirth of the brown plague, as Nazism is also called. So for Russia, inheritor of the Soviet Union, which suffered greatly from the Nazi aggression it is a matter of honor not to let others forget the Nazi crimes and those horrible years.

Western condemnation
The West condemns Russia, asserting that the Victory military parade is a demonstration of force. Partly this is true. But Russia has reasons for this. NATO enlargement to the East, deployment of anti-missiles systems behind its borders, transformation of yesterday's partners to today's opponents, revival of the ghosts and rhetoric of the Cold War, persistent building of the image of Russia as a rival and aggressor in the Western media, give deep concerns and make it strengthen its defensive capabilities and military might, as an instrument of containment.
Victory Day should never be politicized. This is a memorial day for all peoples living on post-soviet territory
Maria Dubovikova
However the Victory parade is also a tribute to the historical victory parade of June 25, 1945. This is a key element of national identity, the honoring of military forces and a tribute to millions of deceased in the Great Patriotic War. This is one of the instruments to raise national spirit, patriotism and pride for the country. A country that has survived years of humiliation and shame after the collapse of the Soviet Union.
It should be said that Victory Day should never be politicized. This is a memorial day for all peoples living on post-soviet territory. We should resist the efforts to rewrite the history. We should resist all the attempts to rehabilitate the Nazism and its crimes. We should remember those who gave their lives for our future.

_______________
Maria Dubovikova is a co-founder of IMESClub (International Middle Eastern Studies Club), IMESClub Executive Director and member of the Club Council, author of several scientific articles and participant of several high level international conferences. She is a permanent member of the Think-tank under the American University in Moscow. Alumni of MGIMO (Moscow State Institute of International Relations (University) of Ministry of Foreign Affairs of Russia) (honors diploma), she had been working for three months as a trainee at the French Institute of International Relations (IFRI) in Paris. Now she is a PhD Candidate at MGIMO (Department of International Relations and Foreign Policy of Russia). Her research field is Russian foreign policy, especially in the Middle East, the policy of France and the US towards the Mediterranean, theory of international relations, humanitarian interventions and etc. Fluently speaks and writes in French and English. She can be followed on Twitter: @politblogme