Muhammad Ali was champion of the world in every sense
To label Ali as a boxer and only a boxer would be to understate all that he stood for and represented
How great was Muhammad Ali? He was the greatest boxer of all-time. He was an icon of his times and one of the most charismatic athletes to have ever graced a field, court or ring. Perhaps the most essential tribute is paid in the unambiguousness of his lasting moniker - The Greatest. Nobody else can, or ever will, lay claim to that title.
He was a three-time heavyweight champion of the world, with the Fight of the Century (against Joe Frazier in 1971), the Thrilla in Manilla (also against Frazier in 1975) and the Rumble in the Jungle (against George Foreman in 1974) among the greatest contests sport has ever witnessed.
But he was more than a heavyweight champion of the world. Countless men have held that title since Ali last entered a ring in 1981. He transcended all the wins (56 of them) and all the titles. In the end those mattered little in the context of his true legacy. He was a champion of the world in much wider sense. In every sense.
To label Ali as a boxer and only a boxer would be to understate all that he stood for and represented. He was the fearless and headstrong young man from Louisville who took on the world by beating Sonny Liston in Miami, becoming heavyweight champion of the world for the first time in 1964. That in itself was a powerful enough tale.
But Ali was also the activist who changed his name from Cassius Clay as a way of discarding his "slave name," after converting to Islam. He became a figure of protest and equality, and in the case of his stance against the US army, a figure for pacifism too.
A gracious human being
By refusing to be drafted into the army for the Vietnam War - declaring "Man, I ain't got no quarrel with them Vietcong" - Ali was stripped of his titles for over three years. Those were his best years as a fighter, but his opposition to a highly contentious and controversial war, taking on the United States government and risking five years imprisonment, made him the biggest sports star on the planet.
To label Ali as a boxer and only a boxer would be to understate all that he stood for and represented
Graham Ruthven
He was a radical who became an icon of society. Even his greatest enemies gush over Ali and what he signified. "Muhammad Ali was one of the greatest human beings I have ever met," Foreman said in the immediate aftermath of his great rival's death. "No doubt he was one of the best people to have lived in this day and age."
And therein can be found the most permanent of Ali's legacies, of which there are a few. His rhetoric was often one driven by ego, defined by soundbites. His quotes will adorn the walls of gyms and locker rooms for ever more. Indeed, Ali was the most distinctive sportsman in both sound and vision.
But the greatest heavyweight champion of them all was a soft soul. Right up until the day his 32-year fight with Parkinson's disease was finally called, at a hospital in Arizona, Ali was a gracious human being, openly forgiving those who once did him wrong, always keen to pose for a picture or sign an autograph, no matter how tedious that undertaking must have been after so many years.
The debate over where Ali ranks in the pantheon of true sporting greats will continue, but ultimately such discourse somewhat misses the point of what he was, and what he still is. He might have died late on Friday at the age of 74, but Ali is immortal. He will always be here.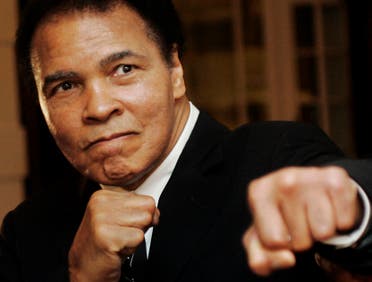 ___________
Graham Ruthven is a football writer working for the Guardian, Eurosport, beIN Sports, Scottish TV, Grantland and New York Times among others. He also guests frequently on Sirius XM and Bleacher Report radio, specialising in English, Spanish, North American and Arabian football. Follow him on Twitter @grahamruthven