Pakistan's prime minister Nawaz Sharif cut short a trip abroad to rush to the side of victims of a massive fuel tanker fire as authorities on Monday raised the death toll from the blaze to 157.
The truck, carrying some 25,000 liters of gasoline, was traveling from the southern port city of Karachi to Lahore, the Punjab provincial capital, when the driver lost control and crashed on a highway outside the town of Bahawalpur early on Sunday.
Dr. Nahid Ahmed at the Nishter Hospital in the city of Multan, about 100 kilometers away from the site of the fire, said four of the victims that were brought from Bahawalpur had died overnight, bringing the death toll to 157. Ahmed said 50 more severely burned victims were being treated at his hospital.
Rescue official Mohammad Baqar at the Bahawalpur hospital said 20 more victims were transported on Monday by a military C-130 plane to Lahore for better medical care. Prime minister Nawaz Sharif, who visited the Victoria Hospital in Bahawalpur on Monday, ordered that more of those most critically hurt be transferred to bigger hospitals in the area, Baqar said.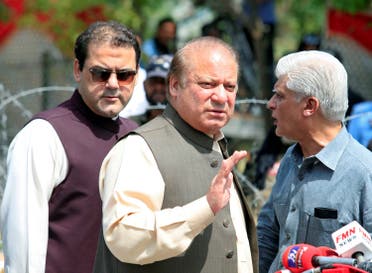 Sharif rushes back home
Sharif cut short his trip abroad and rushed back home, reaching Bahwalpur on Monday to visit the victims and console the affected families. Sharif also announced 2 million rupees - almost $20,000 – as financial assistance for each family that had lost a family member in the highway inferno. Sharif also handed over checks of 1 million rupees ($10,000) for each burned victim being treated at the hospital in Bahawalpur.
"This is not compensation, no compensation is possible for precious human life, but it is to help the affected families in distress," Sharif said, expressing his prayers for those killed and for a speedy recovery of the burned victims. Many of the bodies were burned beyond recognition and will have to be identified through DNA testing, said Baqar.
"I have never seen anything like it in my life. Victims trapped in the fireball. They were screaming for help," said Abdul Malik, a police officer who was among the first to arrive on the scene of horror in Pakistan's Punjab province.
When the flames subsided, he said, "we saw bodies everywhere. So many were just skeletons. The people who were alive were in really bad shape." Some of the most badly burned were immediately evacuated by army helicopters to Multan. The dead included men, women and children.