Eda'at
Airing date: Friday
Eda'at ('spotlights' in Arabic) covers political, cultural and human-interest stories. It regularly interviews high-profile figures, providing a round-up of the most important stories relevant to a particular guest or current event.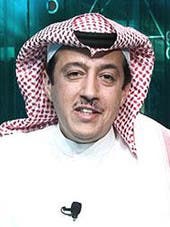 PRESENTED BY
Turki al-Dakhil
Turki al-Dakhil is the presenter of Eda'at. He is a prominent journalist and media personality, who in 2012 was ranked 29th on the Arabian Business list of the world's 100 most powerful Saudis.
Al-Dakhil holds a bachelor's degree from Imam Muhammad Ibn Saud Islamic University in Saudi Arabia, a master's in Islamic studies from Makassed University of Beirut, and has enrolled in specialized courses covering journalism, photography, and website administration.
Al-Dakhil ventured into journalism in 1989. Throughout his career, he contributed to a number of publications including Al-Riyadh, Okaz and Asharq Al-Awsat. He worked as a full timer at Al-Hayat newspaper, holding the position of the Saudi Politics editor.
Between 1997 and 1998, al-Dhakil served as a political correspondent for Radio Monte Carlo, before moving to MBC FM in 1999. While working at MBC Group he contributed to the establishment of the Al Arabiya News Channel, which launched in 2003.
Al-Dakhil currently owns and manages the Al Mesbar Studies & Research Center in Dubai.
SHOW MORE