From Iraq
Airing date: Sunday
From Iraq is a socio-political humanitarian program which aims to uncover the realities from within the war-torn country. It follows the daily sufferings of the Iraqi people, fortified with real images, confessions from witnesses and analytical reports.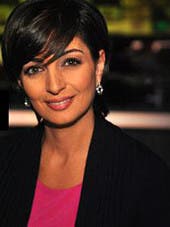 PRESENTED BY
Mayssoun Noueihed
Presenter Mayssoun Noueihed joined Al Arabiya News Channel in 2010. She was born in Ras el-Metn, Lebanon.
Noueihed holds a degree in sociology. She began her career while still studying at university, presenting a live children's educational game show on a local Lebanese TV station for around two years.
In 2000, Noueihed took up a teaching job with her degree, but was also working with MBC Group on a female-targeted TV program.
A couple of years later Noueihed moved to Lebanon's New TV, where for five years she produced and presented a daily morning program. She also presented a program which documented and honored classics from the Arabic music.
Noueihed then got married and moved to the UAE, where in 2006 she took a post with Al Aan TV. After a two-year break following the birth of her first child, Noueihed joined the Iraqi TV channel Al Sharqiya for six months, before joining Al Arabiya.
SHOW MORE