Point Of Order
Airing date: Friday
Point of Order is a live, weekly socio-political hard-talk show. Its guests have included figures such as Syrian President Bashar al-Assad, French philosopher and author Bernard-Henri Lévy and the president of the Iraqi Kurdistan region Masoud Barzani. The show, presented by Hasan Muawad, is known for its bold questions and sometimes controversial guests and discussions.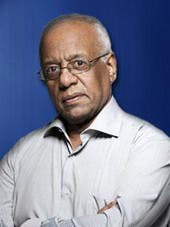 PRESENTED BY
Hasan Muawad
Hasan Muawad is presenter of the current-affairs program Point of Order. He was born in Jericho in the West Bank in 1950 and graduated from Jordan University in 1974 with a bachelor's degree in accounting.
Muawad's career started as a chief accountant working with Royal Jordanian Airlines in Geneva, Switzerland. After getting married in Geneva, Muawad and his wife moved to London where he joined BBC Arabic radio in 1977, beginning a long career at the British broadcaster.
He started at the BBC as a translator and newsreader. Soon after, Muawad was appointed producer of two daily current affairs programs, The World At One and The World At Six.
In 1984, he became a senior producer within the Current Affairs department, producing and supervising several daily programs. Four years later, he became the deputy head of Current Affairs. Major events Muawad covered included Iraq's invasion of Kuwait and the Falklands War.
His career at the BBC progressed in the 1990s, and he eventually became the head of the Newsgathering Department at BBC Arabic Radio, in addition to his post as deputy head of Current Affairs. He was responsible for around 50 reporters across the Arab world.
In 2001, Muawad decided to take early retirement. But this plan changed in November of that year, when Muawed joined MBC Group as a media adviser. He helped with the foundation of Al Arabiya News Channel in 2003, as well as the launch of Panorama FM.
In 2004, Muawad became the director of radio at MBC Group, heading both Panorama FM and MBC FM.
He came up with the 'Point of Order' concept at the end of 2003, and the hard-talk weekly TV show has gone from strength to strength ever since.
One of the most prominent figures to be interviewed by Muawad is Syria's President Bashar al-Assad, who made a rare appearance on the show in 2003, in the aftermath of the toppling of the former Iraqi President Saddam Hussein.
In 2007, Muawad headed back to the BBC for three years to present the Arabic television show To The Point. But he returned to Al Arabiya in May 2011, where he continues to present Point of Order.
SHOW MORE