California police hunt gunmen after shooting
The San Bernardino Police Department said on Twitter that it had 'confirmed 1 to 3 possible suspects' and multiple victims in the shooting
Police were hunting Wednesday for multiple gunmen who opened fire inside a social services building in San Bernardino in California, with reports of at least 14 dead and 14 injured.
Although only 3 have so far been confirmed dead, a reporter with ABC 7 said that around 12 had been killed, and that SWAT teams were scouring the building.
Several hundred people in the building at time of the shooting were safely evacuated, police said.
A Washington D.C.-based affiliate of ABC reported, without attribution, that the shooting suspects may have left the scene in a black SUV.
The FBI said it did not know if the shooting was a terrorist incident. Police shed no light on a motive.
Local police say that the suspects - believed to be three in number - were wearing tactical gear. Authorities also sealed off the airspace around the scene, preventing news crews from obtaining aerial images.
CBS News said on Twitter that a bomb squad had been dispatched to the scene to "immobilize what's believed to be explosive device."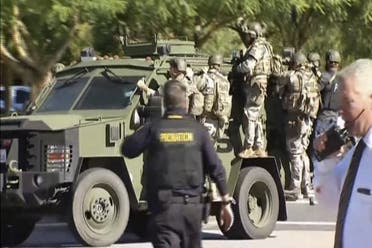 U.S. President Barack Obama, speaking about the mass shooting in California, said there are steps that can be taken to make Americans safer, CBS News reported. He also called on bipartisan efforts to halt gun violence.
The San Bernardino center was hosting an event when more than one gunman burst into the room and began firing, said a police spokeswoman.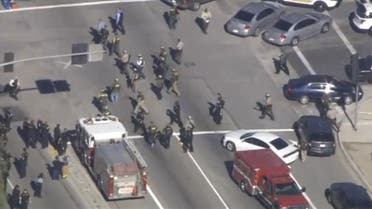 As the manhunt went on, stores, office buildings and at least one school were locked down in the city of 214,000 people about 96 kilometers east of Los Angeles.
Paul Lacroix said his son was able to escape after gunfire erupted at the center.
Lacroix told reporters Wednesday that his son texted him and told him alarms started going off and they got word there was shooting. He said his son was sheltered with a group of people before they managed to get out.
Authorities say multiple people were shot at the Inland Regional Center in San Bernardino.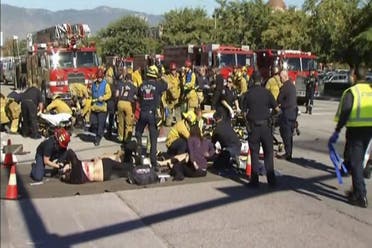 Heavily armed SWAT teams, firefighters and ambulances swarmed the scene, located about an hour east of Los Angeles, as police warned residents away.
"San Bernardino Fire Department units responding to reports of 20 victim shooting incident in 1300 block of S. Waterman. SBPD is working to clear the scene," the city fire department said on Twitter.
"Area remains VERY ACTIVE. AVOID!" tweeted the local sheriff department, which confirmed there were "multiple victims."
Police said that one to three possible suspects were involved.
Obama was briefed on Wednesday on a mass shooting in the Southern California city of San Bernardino, a White House official said.
"The president has been briefed by his Homeland Security Adviser Lisa Monaco about the shooting in San Bernardino and has asked to be updated on the situation as it develops," the official said.
CBS evening news reported that the shooting took place at Inland Regional Center, which assists people with developmental disabilities.
The shooting comes just days after a lone gunman killed three people during a standoff at a Planned Parenthood clinic in Colorado.