UAE's Minister of State for Foreign Affairs Anwar Gargash has voiced the importance of Arab consensus to confront sectarian projects concealed as resistance plans and said Arab consensus is actually the solution to confront Iranian influence.

"The Arabs' options are clear in this regards. We either bet on an Arab consensus that rejects regional domination and sectarianism or promote regional tutelages and (depict) them as resistance," Gargash said via Twitter.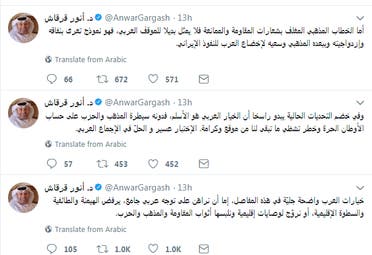 He added that given the current challenges, it seems the Arab option is the best as without it, sectarian policies and Hezbollah will dominate at the expense of free nations and threaten dignities and statuses.

"The test is difficult and the solution lies in Arab consensus," he wrote. "The sectarian rhetoric enveloped in the slogan of resistance is not an alternative to the Arab position. It's a model which hypocrisy, double standards, sectarian approach and goals to subjugate Arabs to Iran's influence have been exposed," Gargash added.
This article is also available in Arabic.