Syrian President Bashar al-Assad said on Thursday that he will not surrender his chemical weapons unless the United States stops threatening to strike his regime.
"When we see the United States really wants stability in our region and stops threatening, striving to attack, and also ceases arms deliveries to terrorists, then we will believe that the necessary processes can be finalized," Russia's Interfax news agency quoted Assad as telling state-run Rossiya-24 channel in an interview.
He said Syria's decision to cede control of its chemical weapons was the result of a Russian proposal, not the threat of U.S. military intervention.
"Syria is placing its chemical weapons under international control because of Russia. The U.S. threats did not influence the decision," Assad said.
He added that his government would submit data on its chemical weapons stockpile only a month after signing an anti-chemical weapons convention.
Sending an appeal
"Syria will be sending an appeal to the U.N. and the Organization for Prohibition of Chemical Weapons in a few days, which will have technical documents necessary to sign the agreement," he added in translated remarks.
The United Nations said it has already received documents from the Syrian government seeking to join the international convention banning chemical weapons.
"In the past few hours we have received a document from the government of Syria which is being translated," said a U.N. spokesman Farhan Haq. He said it was "an accession document" for the chemical convention.
While both Russian and Syria admit that chemical weapons were used, they both blame the rebels for using them. The United States says the rebels do not have the capabilities to deploy chemical weapons.
The Pentagon said Thursday that Russia is "isolated and alone" in accusing Syrian rebels of staging the Aug. 21 chemical weapons attack that.
"Russia is isolated and alone in blaming the opposition. We've seen no credible reporting that the opposition has used chemical weapons in Syria," Pentagon press secretary George Little told reporters.
A team of U.S. experts accompanying Secretary of State John Kerry met with their Russian counterparts in Geneva on Thursday to discuss the Russian plan for Syria's chemical weapons handover.
At the start of the meeting Russian Foreign Minister Sergei Lavrov said Syria handing over chemical weapons and joining the treaty banning them would make U.S. strikes against the country "unnecessary."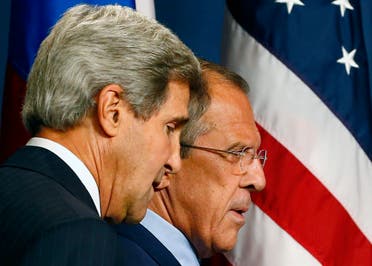 "The solution of this problem makes unnecessary any strikes on Syria, and I am sure that our American partners... are strongly in favor of a peaceful way to regulate chemical weapons in Syria," Lavrov said, speaking alongside Kerry in Geneva.

Kerry reiterated the U.S. position that force might be needed against Syria if diplomacy over Assad's chemical weapons stockpile fails.

"President Obama has made clear that should diplomacy fail force might be necessary to deter and degrade Assad's capacity to deliver these weapons," Kerry said.
U.S. President Barack Obama had said during a Cabinet meeting on Thursday that he is hopeful the discussions on Syria between Kerry and Lavrov will have a positive result.
President Obama said he is now focusing on domestic priorities after a tense period during which he sought congressional approval to use military force against Syria for its suspected use of chemical weapons.
"Even as we have been spending a lot of time on the Syria issue and making sure that international attention is focused on the horrible tragedy that occurred there, it is still important to recognize that we've got a lot more stuff to do here in this government," the president said.
(With AFP and Reuters)