Mortar shell fired near French embassy in Yemen
Former President Ali Abdullah Saleh's home, French embassy might have been targets in twin attacks
The diplomatic quarter in Yemen's capital Sanaa was shaken overnight by mortar shell fire and a car bomb, police sources said.
The mortal shell was fired in the direction of the French embassy in Yemen, while a car bomb exploded meters away.
Infographic: Blasts rock Sanaa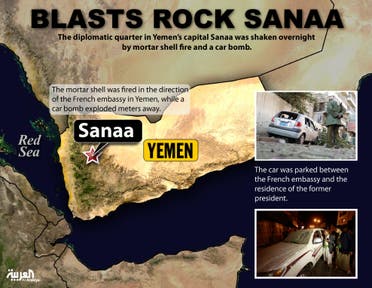 "The two attacks happened after midnight. There were no victims," a police source told Agence France-Presse.

"The shell landed about thirty meters (yards) from the wall of the French embassy," while the car "was parked halfway between the embassy and the residence of former president Ali Abdullah Saleh in the capital's diplomatic district of Hadda," the same source said.
Witnesses told Reuters news agency that the blast near Saleh's home appears to have been caused by an implanted explosive device in the area.

Those explosions came shortly after two devices went off in a minibus parked in the center of Sanaa not far from the defense ministry, also causing no casualties, a military source told AFP.
The shell fell by a concrete block, installed for security reasons on a road leading to the embassy, he added. There was no immediate word on the total number of casualties or the cause of the blasts.

Such violent acts have increased in Yemen where Shiite Houthi rebels have been pushing out from the mountains of the far north to areas closer to Sanaa to expand their hoped-for autonomous unit in a promised federal Yemen.

One of the poorest countries in the Arab world, Yemen has been in turmoil since mass protests in 2011 forced long-serving Saleh to step down.
(With Reuters and AFP)