Militants clash with Peshmerga in Iraq's Kirkuk: tribal sheikh
Kurdish PM says Maliki should be denied third term and autonomous zones for Iraq's Sunni Arabs should be considered
Fighters belonging to the Islamic State of Iraq and Syria (ISIS) clashed with Kurdish forces in the southwest of Iraq's Kirkuk province, a local tribal leader told Al Arabiya Channel Tuesday.
Speaking on condition of anonymity, the tribal leader from Hawijah, west Kirkuk, also denied gunmen from his tribe had clashed with the Peshmerga, saying the battles had been between ISIS and the Kurdish forces in an area called Multaqa.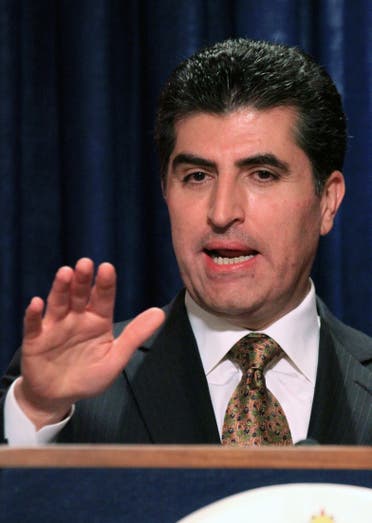 The Peshmerga this week moved into several cities and towns deserted by government troops in the face of ISIS fighters, including oil-rich Kirkuk.
Prime Minister Nouri al-Maliki is facing a growing uprising against his Shiite-dominated government spearheaded by ISIS militants who have taken over swathes of territory including Iraq's second-largest city Mosul.

Kurdish PM
The head of the Kurdistan Regional Government (KRG), ruled out Peshmerga forces helping Maliki retake the northern city and said resolving the crisis would need to see the prime minister step down and Sunni Arabs granted their own autonomy.
Kurdish Prime Minister Nechirvan Barzani, who spoke to the BBC in an interview aired Tuesday, said his "top priority" was to protect areas in the north-east that are administered by the KRG.
The nephew of Kurdistan's President Massoud Barzani also ruled out using the Peshmerga to drive out ISIS from Sunni Arab areas, arguing that the crisis in the country was not just a question of terrorism.
'Maliki to blame'
Barzani named the policies of Maliki as the cause behind the crisis.
"It's not only ISIS. It's the result of the wrong policy in Baghdad vis-a-vis Sunni areas. It's about the Sunni community feeling neglected," Barzani said.
"I don't think it can stay together," he said, referring to the integrity of Iraq.
"As I said: Iraq before Mosul, and Iraq after Mosul. So now we have to sit down and find a formula how to live together, but if we think that Iraq will go back like before Mosul, I don't think so - it's almost impossible," he said.
Barzani also said U.S. support for Iraq should be contingent on Maliki being denied a third term in office.
"If the situation can go back to normal without Maliki, I think they have to do it," he said.
Maliki was named prime minister after his State of Law parliamentary bloc won the most seats in April's general elections.
He also suggested creating an autonomous Sunni Arab region as a way out of the crisis.
"We have to leave it to Sunni areas to decide, but I think this is the best model for them as well. First, they have to take a decision: what they want exactly. And in our view ... the best way is to have a Sunni region, like we have in Kurdistan," he said.
"There is no trust between Maliki and the Kurds, and even with Shia groups. So, in my view, [a political solution] is difficult," he added.