ISIS supporters mourn death of 'youngest fighter'
ISIS supporters have recently circulated pictures of the 'Cub of Baghdadi,' who they say is the youngest militant 'martyr'
Supporters of the Islamic State of Iraq and Syria militant group have recently circulated pictures of the "Cub of Baghdadi," who they say is the youngest ISIS "martyr" from the Arabian Peninsula to have been killed in Syria.
On "The Cub of Baghdadi Channel" on YouTube, ISIS supporters on Oct. 7 published an obituary for the young boy.
"In life we have met, and in the afterlife, we have the hope - we ask God to see you in happiness, in a place where this no boredom. In heaven," it read.
The YouTube video featured a collage of pictures of the young boy who is believed to be 10-years-old. The images, which show him wearing military clothes and carrying arms, cannot be independently verified however.
Other pictures show him posing with his "martyred" father. The video has garnered at least 56,296 views as of Thursday.
On Twitter, a "Cub of Baghdadi is Staying" twitter account dedicated to the boy has 4,309 followers as of Thursday.
There were mixed reactions to the reports of his death.
On YouTube, one user commenting said "Oh mother, I did not die, but I am a martyr with my God," while another user on Twitter said: "God bless you cub of Baghdadi, your picture has made me cry. I swear I wished if I was in your
place."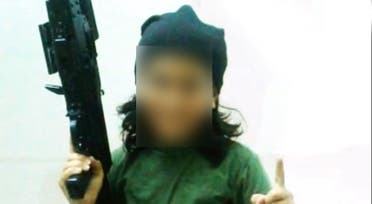 Charlie Cooper, a researcher at the Quilliam Foundation, told The Independent newspaper that those sharing the pictures are paying tribute to the child as the youngest martyr from the Arabian Peninsula to have been killed in Syria.
However, there were others who criticized and scorned the use of children in conflict.
On YouTube commented said: "Unfortunately everyday a child in Palestine is martyred either because of conflict, hunger or sickness. We did not see anyone objecting…"
Another rebuked the use of children in conflicts on YouTube: "Is this holy jihad? Brainwashing kids' brains?"
On Twitter user said: "Cub of Baghdadi youngest ISIS fighter killed, the child from the Arabian Peninsula came to kill other Arabs, what a great upbringing."
Another Twitter user said: "ISIS has announced the killing of its youngest jihadist, and says he is in heaven with 72 Barbie dolls," in apparent reference to a saying propagated by extremist groups that men will be rewarded with 72 virgins in heaven.
The United Nations has previously rebuked the group for using children below the age of 15 and accused it of committing war crimes.