Netanyahu says Jerusalem facing 'terror' onslaught
Netanyahu has ordered authorities to destroy the homes of the attackers who killed four people in a Jerusalem synagogue
Israel is facing an ongoing wave of terror which is focused on Jerusalem, Prime Minister Benjamin Netanyahu said after an attack on a synagogue Tuesday killed four rabbis at prayer.

"We are at the height of an ongoing terror attack focused on Jerusalem," he said in a live public address.

Netanyahu spoke after President Barack Obama strongly condemned Tuesday's "horrific" attack at a synagogue in Israel that killed three U.S. citizens, and he urged Israelis and Palestinians to calm tensions.
"Tragically, this is not the first loss of lives that we have seen in recent months. Too many Israelis have died, too many Palestinians have died," Obama told reporters at the White House.
"Obviously, we condemn in the strongest terms this attack," he said, adding that U.S. Secretary of State John Kerry had spoken to Israeli Prime Minister Benjamin Netanyahu by telephone.

Palestinian President Mahmoud Abbas condemned the attack, the first time he has done so since a recent spike in deadly violence against Israelis. He also called for an end to Israeli "provocations" surrounding the sacred site.
Meanwhile, both Hamas and Islamic Jihad hailed the attack, Agence France-Presse reported.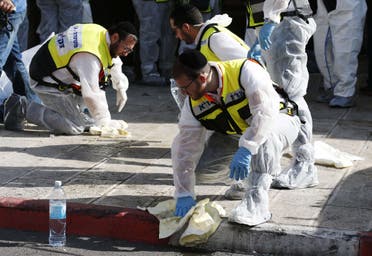 'Destroy synagogue attackers' homes'
Before his live public address, Netanyahu ordered authorities to destroy the homes of the attackers who killed the four people in the Jerusalem synagogue.
Netanyahu announced the directive Tuesday after a meeting with top security officials. He did not say when the demolitions would take place.
Israel halted its much-maligned practice of home demolitions in 2005 after officials determined it was not an effective deterrent. But they have had a change of heart recently and begun to renew the tactic in certain cases.
Netanyahu was scheduled to hold a televised news conference later Tuesday.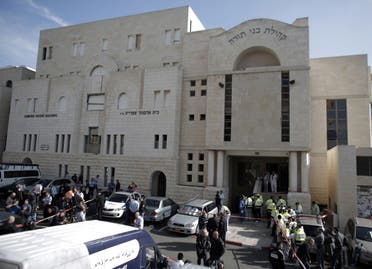 White House urges cooperation
Separately, the White House issued a statement from the president.
"At this sensitive moment in Jerusalem, it is all the more important for Israeli and Palestinian leaders and ordinary citizens to work cooperatively together to lower tensions, reject violence, and seek a path forward towards peace," Obama said.
Obama identified the three Israeli-Americans who died in Tuesday's attack by two Palestinians armed with a gun and meat cleavers as Aryeh Kupinsky, Cary William Levine and Mosheh Twersky
"There is and can be no justification for such attacks against innocent civilians," he said.
"The thoughts and prayers of the American people are with the victims and families of all those who were killed and injured in this horrific attack and in other recent violence."
The fourth Israeli victim has been identified as a British national named Avraham Goldberg. Eight more people were wounded.
It is said that Twersky, the grandson of a renowned rabbi from Boston, Joseph Soloveichik, was the head of Yeshivas Toras Moshe, a religious seminary for English-speaking students.
The attack began shortly before 7:00 am (0500 GMT) when assailants burst into a Jewish seminary in Har Nof. Police exchanged gunfire with the attackers, killing them. Two police were wounded, one critically.
Kerry, traveling in London, also condemned the attack. Kerry demanded that the Palestinian leadership take immediate steps to end incitement to violence.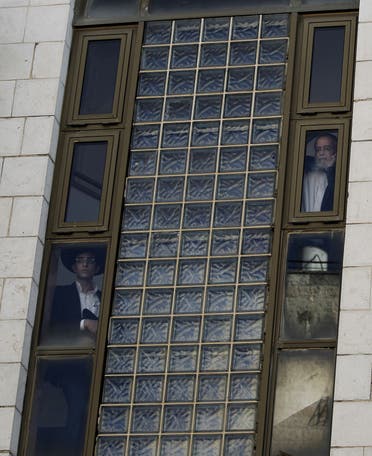 Russia: 'rein in extremists'
Russia on Tuesday also condemned the attack, warning of a dangerous build-up of tensions and calling for both sides to rein in extremists.
"We decisively and unambiguously condemn this terrorist act," the Russian foreign ministry said in a statement.
"Killing peaceful citizens is an inhumane crime, whatever its motivations," the ministry said.
"... We call on Palestinians and Israelis to take urgent measures to rein in extremists, whose actions threaten to explode the situation entirely," Moscow said.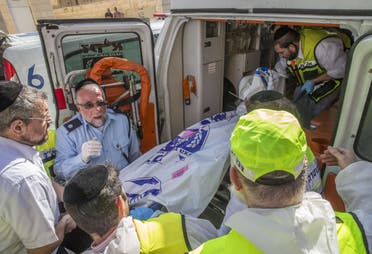 Thousands attend funeral
Thousands of people attended a joint funeral for Kupinsky, Levine and Goldberg before sundown- held outside the synagogue where the attack occurred, the Associated Press reported.
Earlier, blood was streaked across the floors, soaked prayer books and shawls there.
One Canadian was wounded in the attack, said Francois Lasalle, a spokesman for Canada's Foreign Affairs Department. He declined to provide further details.
The attack was the deadliest in Jerusalem since a Palestinian assailant killed eight students at a Jewish seminar in March 2008.
On Monday, several dozen Palestinians clashed with Israeli police in east Jerusalem after rumors surfaced that a Palestinian man had been hanged by Jewish assailants. Police denied the rumors, saying forensic experts determined the death was a suicide.
Late Tuesday, police said they were investigating a Palestinians' claim that he was stabbed in the leg by three Jewish assailants in downtown Jerusalem. The youth was taken to a hospital.
Also Tuesday, unidentified assailants opened fire on a Jewish settlement in the occupied West Bank. There were no reported casualties.
(With AFP and Associated Press)