UNSC members 'stand behind' GCC resolution on Yemen
The proposed resolution backs the legitimate Yemeni President Abdrabbu Mansour Hadi and condemns the Houthis takeover as illegitimate
The permanent member states of the U.N. Security Council stand behind the Gulf Cooperation Council's proposed resolution backing an arms embargo on Houthi rebels in Yemen, and discussions between the GCC and the Security Council are underway, reported Al Arabiya News Channel on Tuesday.
The proposed resolution backs the legitimate Yemeni President Abdrabbu Mansour Hadi and condemns the Houthis takeover as illegitimate.
The resolution also demands the Houthis to act on Resolution 2201 which demanded the rebels to "immediately and unconditionally" withdraw from the capital and government institutions, lay down arms, and return to U.N.-brokered negotiations within three days from its adoption.
The Houthis will be listed on the Security Council's "consolidated list," which includes all individuals and entities subject to sanctions measures imposed by the Council, in the event the armed group does not implement the proposed resolution, the text also said.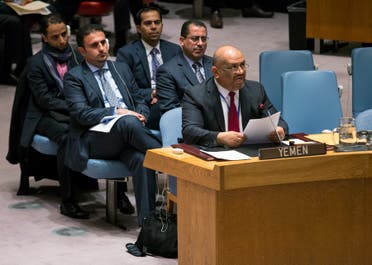 The resolution already proposed sanctioning former Yemeni President Ali Abdullah Saleh, who is accused of supporting the Houthis and stirring chaos in the already unstable country, as well as Houthi leader Abdelmalik al-Houthi. In addition, the resolution requested an investigation into the relationship between Saleh and al-Qaeda.
The text also emphasized that all deals struck between the Houthis and foreign entities would be invalid.
The GCC expressed its desire for the resolution to be militarily enforceable under Chapter 7 of the U.N. Charter. To avoid the Libyan scenario, the resolution emphasized that an arms embargo should be imposed on non-state actors only.
The six-member Gulf council has previously presented the Security Council president with a letter explaining that military intervention is targeting military installations held by the Iran-backed Houthi militias and is a response to Hadi's request for immediate help.
Last week, President Hadi asked the Security Council to authorize "willing countries that wish to help Yemen to provide immediate support for the legitimate authority by all means and measures to protect Yemen and deter the Houthi aggression."
Hadi cited Article 51 of the U.N. Charter, which covers an individual or collective right to self-defense against armed attack, as his legal justification for requesting military help from Arab countries.
"All our efforts for peaceful settlement have encountered absolute rejection by the Houthis who continue their aggression to subdue the rest of the regions out of their control," Hadi wrote. "There are military convoys destined to attack Aden and the rest of the south."
Last week, Saudi Arabia, and a coalition of all GCC countries (barring Oman), along with Sudan, Egypt, Morocco, Jordan and Pakistan, waged "Operation Decisive Storm" against the Houthi coup in Yemen.