The Yemeni government is planning to reopen Mokha port on the country's Red Sea coast after armed forced liberated the port from Houthi militias, the Saudi Press Agency reported on Saturday.
"The ministry is working to take the necessary measures to conduct work in the ports of Al-Hudaydah and Al-Mokha" after their liberation from Houthis and that it is assessing procedures to "transfer the presidency of the Red Sea Ports to Al-Mokha after the government's approval," Yemen's Deputy Minister of Transport Nasser Sharif was quoted as saying,
Houthis had used the port as a route to transport weapons and disrupt maritime navigation with underwater mines.
Last week, Yemeni government forces and their Arab allies massed north and south of the Houthi-held Red Sea port of Hudaydah which has been the entry point for 70 percent of Yemen's food supplies as well as humanitarian aid.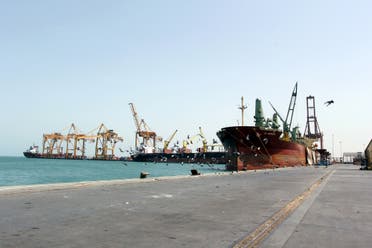 The country has been torn by more than two years of civil war that pits the armed Houthi group against the government of President Abd-Rabbu Mansour Hadi, which is backed by a Saudi-led Arab alliance.
More than 10,000 people have been killed in the conflict and hunger is widespread.
(With Reuters)