Israeli Prime Minister Benjamin Netanyahu on Friday ended a visit to the Sultanate of Oman, the first of its kind, during which he met with Sultan Qaboos bin Said.
"Prime Minister Netanyahu and his wife returned to Israel at the end of an official visit to the Sultanate of Oman, where he met with Prime Minister Sultan Qaboos bin Said," Netanyahu wrote on his Twitter account.
Netanyahu's office said in a statement on Friday that Netanyahu and his wife had been invited by Oman's Sultan Qaboos bin Said after lengthy communications.
The two leaders issued a joint statement saying that the two sides "discussed ways to advance the Middle East peace process and discussed a number of issues of common interest to achieve peace and stability in the Middle East."
Oman has no diplomatic relations with Israel. The meeting between Netanyahu and Sultan Qaboos is the first of its kind between the leaders of the two countries since the visit of Shimon Peres in 1996 when he was acting prime minister. On his official visit, Netanyahu was accompanied his wife Sarah.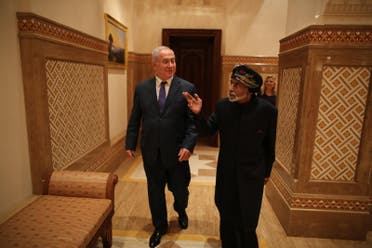 Others in his team were head of the Mossad intelligence agency, Yossi Cohen, the national security adviser, Meir Ben-Shabat, the director general of the Israeli Ministry of Foreign Affaris, Yuval Rotem, the chief of staff, Yuval Horowitz and the military secretary, Colonel Avi Balut.
This is the second visit by an Israeli prime minister to Oman, which was visited in 1994 by Yitzhak Rabin.
Former Prime Minister Shimon Peres also hosted in 1995 the Omani Foreign Minister Yousef bin Alawi in Jerusalem.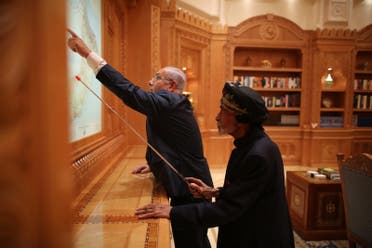 So far, there have been no diplomatic relations between the two countries, but in January 1996 the two countries had signed an agreement on the mutual opening of commercial representation offices, but relations were officially frozen with the outbreak of the second Palestinian uprising in October 2000.
With Agencies