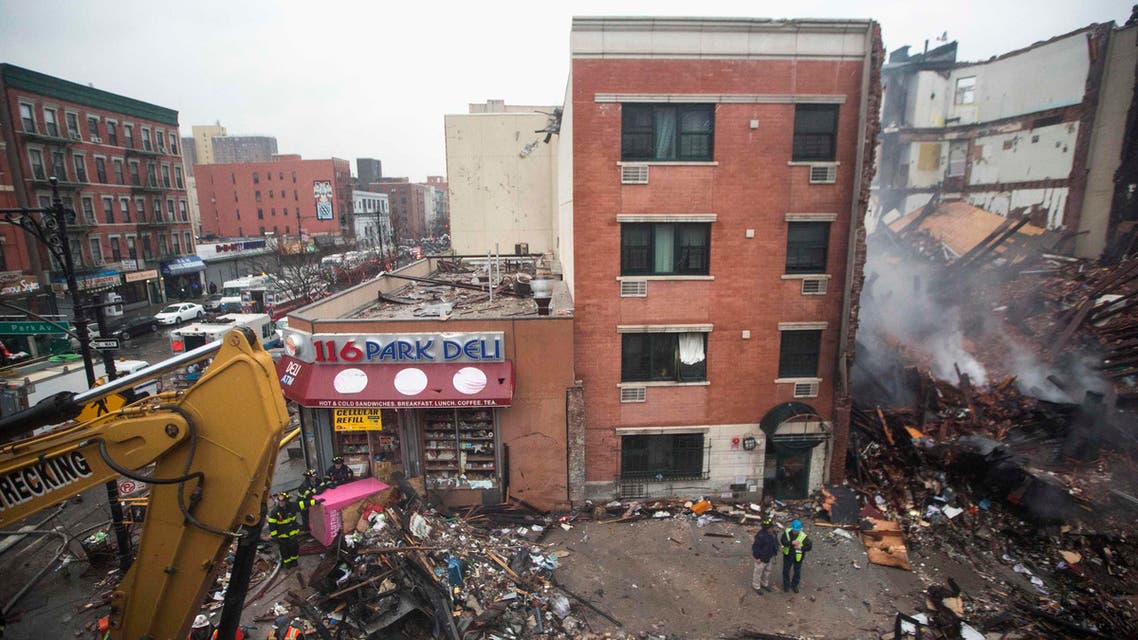 Gas blast destroys 2 NY buildings; 7 people dead
The explosion Wednesday morning in Manhattan's East Harlem neighborhood injured more than 60 people
Rescuers working amid gusty winds, cold temperatures and billowing smoke pulled four additional bodies Thursday from the rubble of two New York City apartment buildings, raising the death toll to at least seven from a gas leak-triggered explosion that reduced the area to a pile of smashed bricks, splinters and mangled metal.
A seventh body was found in the wreckage in Manhattan's East Harlem Thursday morning, Fire Department spokesman Danny Glover said. Three bodies were pulled overnight and three had been found Wednesday.
The explosion Wednesday morning in Manhattan's East Harlem neighborhood injured more than 60 people. Crews used generator-powered floodlights and thermal imaging cameras to identify heat spots - bodies or pockets of fire - at the site on Park Avenue and 116th Street. Police guarding the scene wore surgical masks and neighborhood residents covered faces with scarfs amid the thick, acrid air.
"This is a difficult job, a challenging job," Fire Department spokesman Jim Long said. He said it was "a very terrible and traumatic scene."
Workers initially were hampered from fully accessing the building space because of a sinkhole caused by a subsurface water main break. The weather also posed a challenge, with temperatures dropping well below freezing and rain falling, but workers remained at the site.
Fiery
The fiery blast erupted at about 9:30 a.m. local time, around 15 minutes after a neighboring resident reported smelling gas, authorities said. The Con Edison utility said it immediately sent workers to check out the report, but they didn't arrive until it was too late.
The explosion shattered windows a block away, rained debris onto elevated commuter railroad tracks close by, cast a plume of smoke over the skyline and sent people running into the streets.
"It felt like an earthquake had rattled my whole building," said Waldemar Infante, a porter who was working in a basement nearby. "There were glass shards everywhere on the ground, and all the stores had their windows blown out."
Hunter College identified one victim as Griselde Camacho, a 45-year-old security officer who worked for the university since 2008.
Also killed was Carmen Tanco, 67, a dental hygienist. Her cousin News 12 cameraman Angel Vargas said the family started a frantic search when she didn't show up for work Wednesday.
Police identified another victim as Rosaura Hernandez-Barrios, 21.
The bodies of three unidentified people, two men and a woman, also were found early Thursday.
At least three of the injured were children; one, a 15-year-old boy, was reported in critical condition with burns, broken bones and internal injuries. Most of the other victims' injuries were minor and included cuts and scrapes.
Destroyed
A tenant in one of the destroyed buildings, Ruben Borrero, said residents had complained to the landlord about smelling gas as recently as Tuesday.
A few weeks ago, Borrero said, city fire officials were called about the odor, which he said was so bad that a tenant on the top floor broke open the door to the roof for ventilation.
"It was unbearable," said Borrero, who lived in a second-floor apartment with his mother and sister, who were away at the time of the explosion. "You walk in the front door and you want to turn around and walk directly out."
The fire department said a check of its records found no instances in the past month in which tenants of the two buildings reported gas odors or leaks.
Edward Foppiano, a Con Ed senior vice president, said there was only one gas odor complaint on record with the utility from either address, and it was last May, at the building next door to Borrero's. It was a small leak in customer piping and was fixed, he said.
The block was last checked on Feb. 28 as part of a regular leak survey, and no problems were detected, Foppiano said.
Unanswered
City records show that the building Borrero lived in was owned by Kaoru Muramatsu. A phone number listed for Muramatsu rang unanswered.
Records at the Department of Housing Preservation and Development indicate the agency responded to complaints from a tenant and cited Muramatsu in January for a broken outlet, broken plaster, bars over a fire escape, a missing window guard and missing carbon monoxide and smoke detectors.
A National Transportation Safety Board team arrived in the evening to investigate. The federal agency investigates pipeline accidents in addition to transportation disasters.
NTSB team member Robert Sumwalt said investigators would be looking at how Con Edison handles reports of gas odors and issues with the pipe and would be constructing a timeline of events.
Just before the explosion, a resident from a building next to the two that were destroyed reported smelling gas inside his apartment and thought the odor might be coming from outside, Con Ed spokesman Bob McGee said.
On Wednesday night, the American Red Cross served meals to more than 130 people living in seven buildings impacted by the blast. The Salvation Army provided accommodations in one of its shelters.
The explosion destroyed everything Borrero's family owned, including the ashes of his father, who died a few years ago. Borrero said he assumes his 5-year-old terrier, Nina, was killed.
But "I have my mother and sister," he said. "I'm happy for that."