Crimea holds referendum on joining Russia
Voters are expected to support leaving Ukraine as Russian troops take de facto control of region
Crimea is voting on Sunday on whether to re-join Russia or stay with Ukraine, in what has been condemned as "illegal" referendum by Kiev and the West but backed by Moscow, as Kiev said it had reached a truce with the Kremlin over Crimea.
Voters are expected to support leaving Ukraine as Russian troops have taken de facto control of the majority ethnic-Russian region. Crimea's pro-Russian leaders have worked also hard to ensure that the vote is tilted in Moscow's favor.
Polling stations opened at 8 a.m. (0600 GMT) and will close 12 hours later. Provisional results will be released late on Sunday with the final tally expected one or two days later.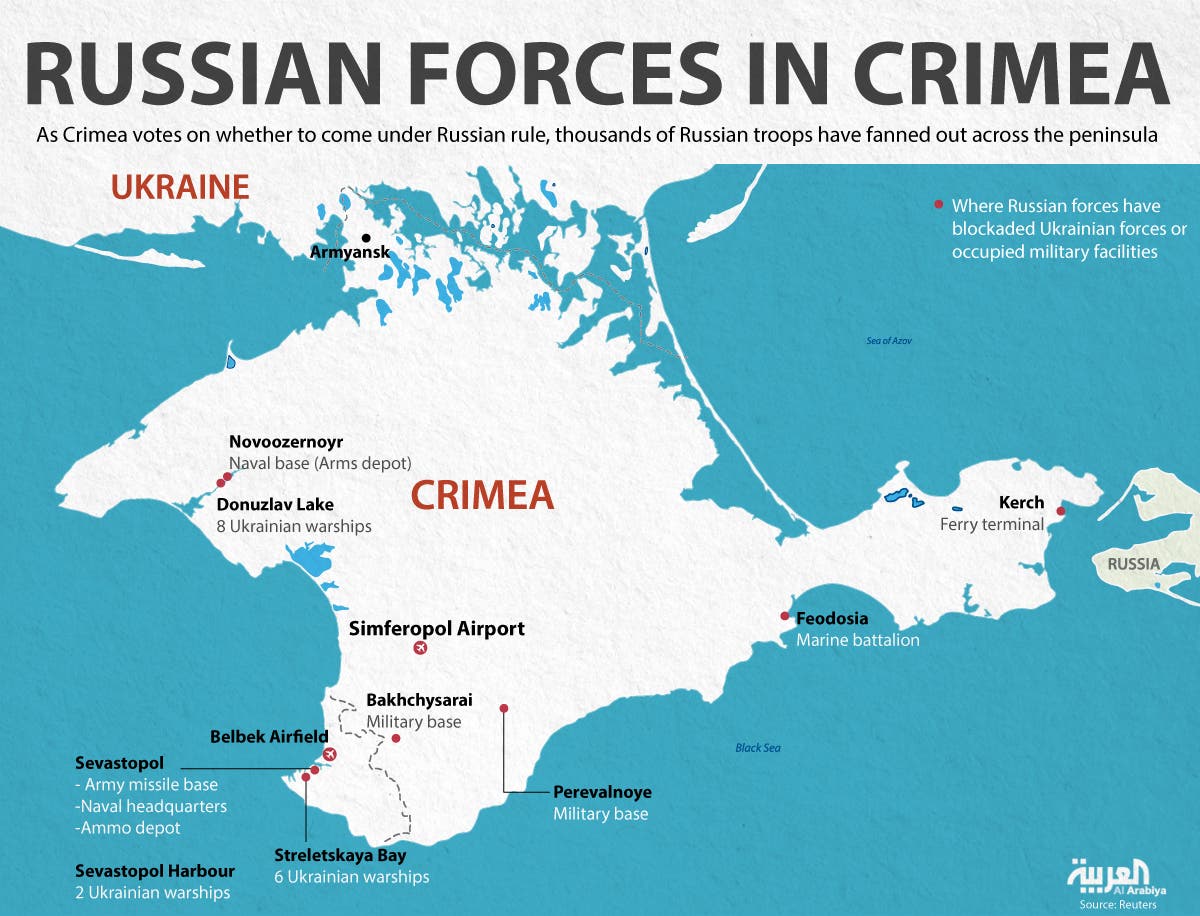 The majority of Crimea's 1.5 million electorate support leaving Ukraine and becoming a part of Russia, citing expectations of better pay and becoming part of a country capable of asserting itself on the world stage.
But others see the referendum as nothing more than a power grab by bullies in the Kremlin prepared to exploit Ukraine's relative economic and military weakness.
Truce
Later on Sunday, Defence Minister Igor Tenyukh told a government meeting in Kiev that a temporary agreement had been reached that would help the encircled Ukrainian soldiers replenish their supplies.
"Agreements have already been reached between our commanders... on there being no attempts to blockade our military installations until March 21," Interfax news agency quoted Tenyukh as saying, according to Agence France-Presse.
"We have reached this truce, and I think it will remain in place until March 21."
Urgent observation
Meanwhile, Ukraine's Prime Minister Arseniy Yatsenyuk called for foreign observers from the Vienna-based Organization for Security and Cooperation in Europe (OSCE) to be sent "urgently" to the east and south of the country as Crimea threatened to secede and join Russia - a motion seconded by German Chancellor Angela Merkel, who soon after told Russian President Vladimir Putin that she wanted a bigger OSCE presence in Ukraine.
In a statement, the Kiev government said it had "asked that the OSCE urgently send a monitoring mission to Ukraine."
"Their mandate should include the east and south of Ukraine, including Crimea," Yatsenyuk added in the statement, as the Black Sea peninsula voted in a referendum widely expected to favour its split from Ukraine and attachment to Russia.
"I hope this decision can be voted at an extraordinary session of the OSCE," Yatsenyuk added.

More than 50 observers from OSCE had already attempted to enter Crimea two weeks ago in a bid to defuse tensions in the autonomous region, but were barred entry on repeated occasion at border checkpoints.
Condemnation
On Saturday, Russia vetoed a Western-backed resolution condemning the Crimea referendum at a U.N. Security Council emergency vote Saturday but China abstained, isolating Moscow further on the Ukraine crisis, AFP reported.
The draft resolution, which says Sunday's referendum would have no validity, got 13 votes in the 15-member Council. But it was rejected when permanent member Russia exercised its veto.
NATO hit by cyber attacks
Several NATO websites were hit by cyber attacks, amid rising tensions over Russian forces' occupation of Ukraine's Crimea region.
NATO spokeswoman Oana Lungescu said on Twitter that several NATO websites have been the target of a "significant DDoS (denial of service) attack." She said there had been no operational impact and NATO experts were working to restore normal function.
Earlier this month, Anders Fogh Rasmussen, who heads the North Atlantic Treaty Organization, called its 28 ambassadors for emergency talks in Brussels on the "grave situation in Ukraine."
"Urgent need for de-escalation in Crimea," Rasmussen wrote on Twitter. "Russia must respect Ukraine's sovereignty, territorial integrity & borders, including with regard to movement of Russian forces in Ukraine."

But Russia has slammed what it describes as NATO's "cold war standards."
"This meeting proved that NATO still has a double standard policy. And Cold War stereotypes are still applied towards Russia," Russian's envoy Alexander Grushko told reporters after the meeting of NATO and Russian officials.
Rasmussen had said that because of Russia's military action in Ukraine's Crimean peninsula "the entire range of NATO-Russia cooperation (is) under review."

(With AFP)