Report: Documents link infamous terrorist 'Abu Banat' with Turkish intelligence
A Russian extremist militant who killed two priests and beheaded many people in Syria has long worked with Turkey's intelligence agency MIT, according to a Swedish site.
MIT helped him get away with lesser charges when he was caught in an al-Qaeda sweep by Turkish police, according to Nordic Monitor.
His name is Maghomed Maghomedzakirovich Abdurkhmanov (aka Abu Banat), a Russian national who travelled to Syria through Turkey in 2012 to join extremists and had led the Jamaat Abu Banat terrorist group, later part of ISIS.
He testified in an Istanbul court how he worked with Turkish intelligence in Syria, receiving funds, arms and vehicles. He is believed to have murdered two Orthodox clerics in Syria on April 22, 2013.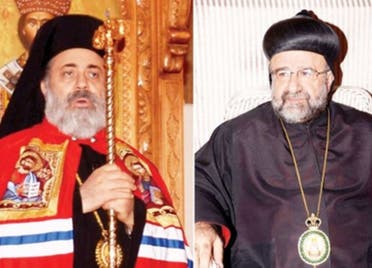 The Russian hardliner entered Syria in 2012 through Turkey and started a militant faction. He later joined a terrorist organization, said the report, adding that videos of "Abu Banat" carrying out horrific killings surfaced thereafter.
According to the report, the black-clad militant holding a knife spoke of his cooperation with Turkish intelligence in Syria during the trial. "Abu Banat" also confirmed that he received significant support such as supply of arms and vehicles.
On October 29, 2015, the United States included the Russian hardliner in the list of classified terrorists. The same month, "Abu Banat" was added to the list of those facing UN Security Council sanctions.
ALSO: Turkey releases most wanted ISIS woman three days after arrest
Despite suspected involvement in the murder of two Christian chaplains, Turkish courts did not charge the hardliner of murder. His conviction was only seven and a half years. The ruling against "Abu Banat" is subject to appeal and may be reduced further at a later stage.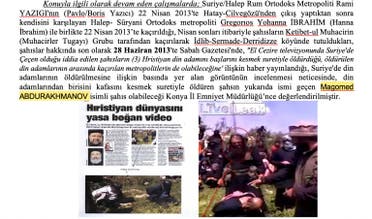 On June 20, 2013, Turkish police arrested "Abu Banat", and another Syrian in the town of Konya, in the central part of the country, during a routine inspection. They were both released soon.
However, when a video purportedly showing "Abu Banat" committing murder surfaced on social media, Turkish police arrested the two in Istanbul.
During interrogation, "Abu Banat" admitted he was the person in the video and indeed slaughtered two people. He said he received a radio communication device from someone working with Turkish intelligence known as Abu Jaafar. (Full story from the source)
Since the conflict began in Syria, Turkey has been the main corridor for foreign terrorists who have joined terrorist groups operating inside the country.