Philippine residents retrieve pets, belongings amid threat of volcano eruption
Thousands of residents under orders to evacuate from a town near the Philippine volcano Taal were allowed to briefly visit homes on Friday to rescue their animals and recover some possessions, taking advantage of what appeared to be waning activity.
Daniel Reyes, mayor of the Agoncillo town inside the danger zone of the 311 meter (1,020 feet) volcano, said he allowed around 3,000 residents to check their properties and retrieve animals, clothes and other possessions.
"If I would not let them rescue their animals, their animals would die and together with them their sources of livelihood," Reyes told Reuters.
A long line of cars, trucks, motorcycle taxis carrying pigs, dogs, television sets, gas stoves and electric fans, were seen leaving Agoncillo, among the towns blanketed in thick layers of volcanic ash.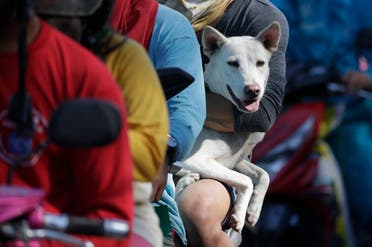 "Our bodies are fine, but our minds and hearts are in pain", said resident Peding Dawis, 63, while resting after taking his cows to safer areas.
Dawis said there were 200 more pigs that needed rescuing in his neighborhood.
"It's hard to leave our homes and livelihood behind."
More than 40,000 residents of Agoncillo have abandoned their homes since Taal, one of the Philippines' most active and deadliest volcanoes, began spewing massive clouds of ash, steam and gas on Sunday, Reyes said.
The majority of residents are now staying with families elsewhere, but the rest are among a total of 66,000 people sheltering in evacuation centers.