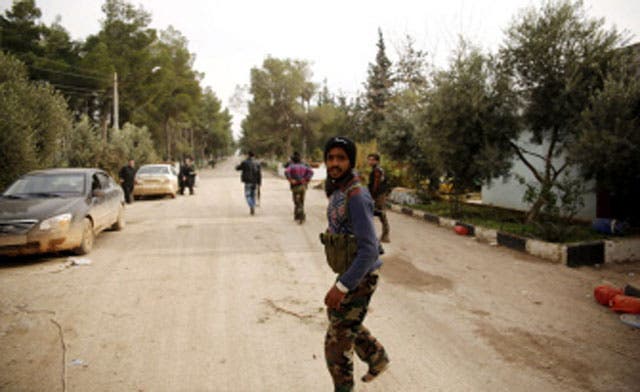 Syria's PM in first Aleppo visit since outbreak of fighting
Syrian Prime Minister Wael al-Halaqi on Monday toured battle-scarred Aleppo for the first time since the outbreak of fighting in the northern city in July, state television said.

"The prime minister went to Aleppo at the head of a delegation to assess the hardships faced by the city due to the criminal actions of terrorist gangs," the broadcaster said.

Rebels fighting the regime of Syrian President Bashar al-Assad have been locked in fierce battles with government troops since July to control Aleppo, Syria's second city and commercial hub.

Meanwhile, rebel fighters on Monday launched an all-out assault on army positions across Hama in some of the worst violence in the central province for months, a watchdog reported.

"Several rebel units began an all-out offensive against positions of the regular army in Hama province," Rami Abdel Rahman, director of the Syrian Observatory for Human Rights, told AFP.

"The clashes are the most violent in this province for months," he added.

Abdel Rahman said rebels were laying siege to army positions along an axis stretching from Khan Sheikhun in the province of Idlib further north to Mharde, in the western district of Hama province.

Syrian troops withdrew from several positions, including Sheikh Hadid, which rebels pounded with mortars and anti-tank rockets, he added.

A member of the military command of the main rebel Free Syrian Army said overnight that the battle to "liberate" Hama and its province had begun and issued a deadline of 1100 GMT Tuesday for soldiers to leave.

Colonel Kassem Saadeddin announced in a statement "the start of the liberation of the city of Hama and its province of the Assad gangs and the shabiha," in reference to troops and a militia of President Assad's regime.

"We have asked all the brigades and battalions to surround and take over all the military positions in the province and we give the soldiers until 1:00 pm on Tuesday (1100 GMT) to desert."

Hama is known as the site of an 1982 uprising which was crushed amid tens of thousands of deaths by President Assad's father and predecessor Hafez al-Assad. It also has been at the forefront of the 21-month conflict.