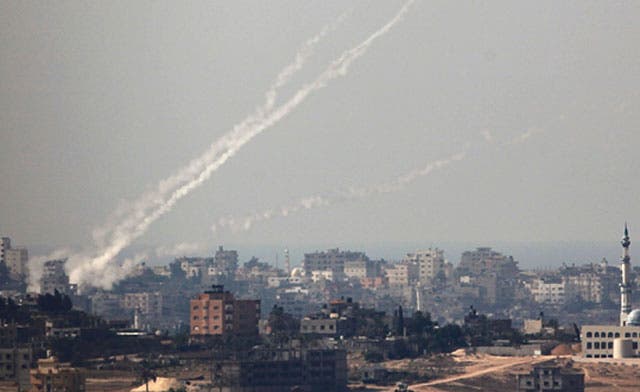 Egypt negotiates ceasefire in Gaza; Mursi vows to 'stand by Palestinians'
A ceasefire between Israel and armed Palestinian groups in Gaza, negotiated with the help of Egypt, came into force early on Thursday, a Palestinian source told AFP.

"The Egyptians negotiated a ceasefire between Israel and Palestinian armed groups," the source said, speaking on condition of anonymity, without giving further details.

Tensions flared on Tuesday after militants fired six rockets at Israel that wounded two people.
The negotiated ceasefire came into effect after Egyptian President Mohammed Mursi said during his first Eid al-Adah speech on Wednesday that "without declaring war against anyone," Egypt would do its best to support Palestinian in their struggle against Israeli occupation.

"We will never accept any assault or siege on the Palestinian people. Egypt provides Palestine with all its needs such as food and clothing," the Cairo-based Ahram Online quoted Mursi as saying.

"The blood of Palestinians is our blood, their life is our life and their pains are our pains. However, supporting Palestine does not mean that we will declare war against anybody," he added in reference to Israel. Mursi did not name Israel directly, thereby maintaining the same pattern he has followed in his speeches since his inauguration as Egypt president, Ahram said.
Surge in violence
The latest surge in violence started early Tuesday when a roadside bomb severely wounded an Israeli soldier. That attack was claimed by the armed wing of the leftist Popular Front for the Liberation of Palestine.

Then on Tuesday evening, Palestinian militants fired six rockets at Israel, shortly after a high-profile visit to Gaza by Qatar's Emir Sheikh Hamad bin Khalifa al-Thani.

In response, Israeli aircraft killed two militants from Hamas' armed wing, the Ezzedine al-Qassam Brigades, in northern Gaza. Palestinian militants hit back with even more rocket fire.

An early-morning Israeli raid near southern city of Rafah Wednesday killed a third militant from the Popular Resistance Committees (PRC). Another Hamas militant hurt in air strikes died of his injuries later, medics said.

Militants from Hamas and the PRC claimed responsibility for the rocket fire.

"Hamas will receive its punishment for what has happened here," Israeli Defense Minister Ehud Barak said Wednesday.

"If they cannot be calmed, and the rockets continue, then the IDF (military) will act," Barak added.

He was speaking as he toured the area around Gaza, hours after the strikes that had wounded the two Thai workers and hurt four other people.

Since the start of 2012, nearly 600 rockets and mortars had been fired at southern Israel, he said.

After the negotiated ceasefire, no further firing of missiles was detected from 7:30 pm (1730 GMT) on Wednesday, according to the Israeli army.

Israeli officials said the government had received messages from Hamas calling for a ceasefire, Israeli public radio reported.

The only crossing between Gaza and Israel in the north of the Palestinian territory was blocked meanwhile, preventing dozens of people from travelling, including patients, said officials.
Netanyahu's warning
Israeli Prime Minister Benjamin Netanyahu warned any continuation of rocket fire would prompt a "much more extensive" Israeli response.

"We neither chose nor initiated this escalation but if it continues we are prepared for much more extensive and deeper action," Netanyahu said. He was speaking during a tour of the Iron Dome anti-missile battery near Ashkelon, which brought down eight rockets during the day.

"In any case, we will continue with preventative operations. Whoever intends to attack Israeli citizens needs to know that he will bear the consequences."

Netanyahu also said he had decided to increase protection for Israeli communities located near the Gaza border but not covered by the Iron Dome system.

Meanwhile, the Hamas government issued a statement "condemning the Zionist aggression against the Gaza Strip," and warning of its consequences.

It called on Arab leaders to visit the Gaza Strip in solidarity with its people, while expressing satisfaction at "the historic visit of the emir of Qatar."

Palestinian negotiator Saeb Erakat said Israel "bears full responsibility for what happens to our people in Gaza."

U.N. peace envoy Robert Serry, deploring the escalation, called on all parties to exercise utmost restraint.