UAE currency exchanges optimistic despite economic worries
Last year, cash sent home by expats in the Middle East, mainly from wealthy Gulf states, reached an estimated $120 billion
UAE currency exchange bureaus – which every year handle billions of dollars sent home by expat workers – say they are confident despite collapsed oil prices and shaky economic indicators.
Last year, cash sent home by expats in the Middle East, mainly from wealthy Gulf states, reached an estimated $120 billion.
Commonly known as remittances, the bulk of transfers come from low to middle income workers from India, Pakistan, Bangladesh and the Philippines.
"We believe that the dip in remittances felt by the industry globally could only be a medium-term phenomenon," said Sudhesh Giriyan, an executive at Xpress Money, a Dubai-based transfer firm which operates around the world, including wealthy Gulf states.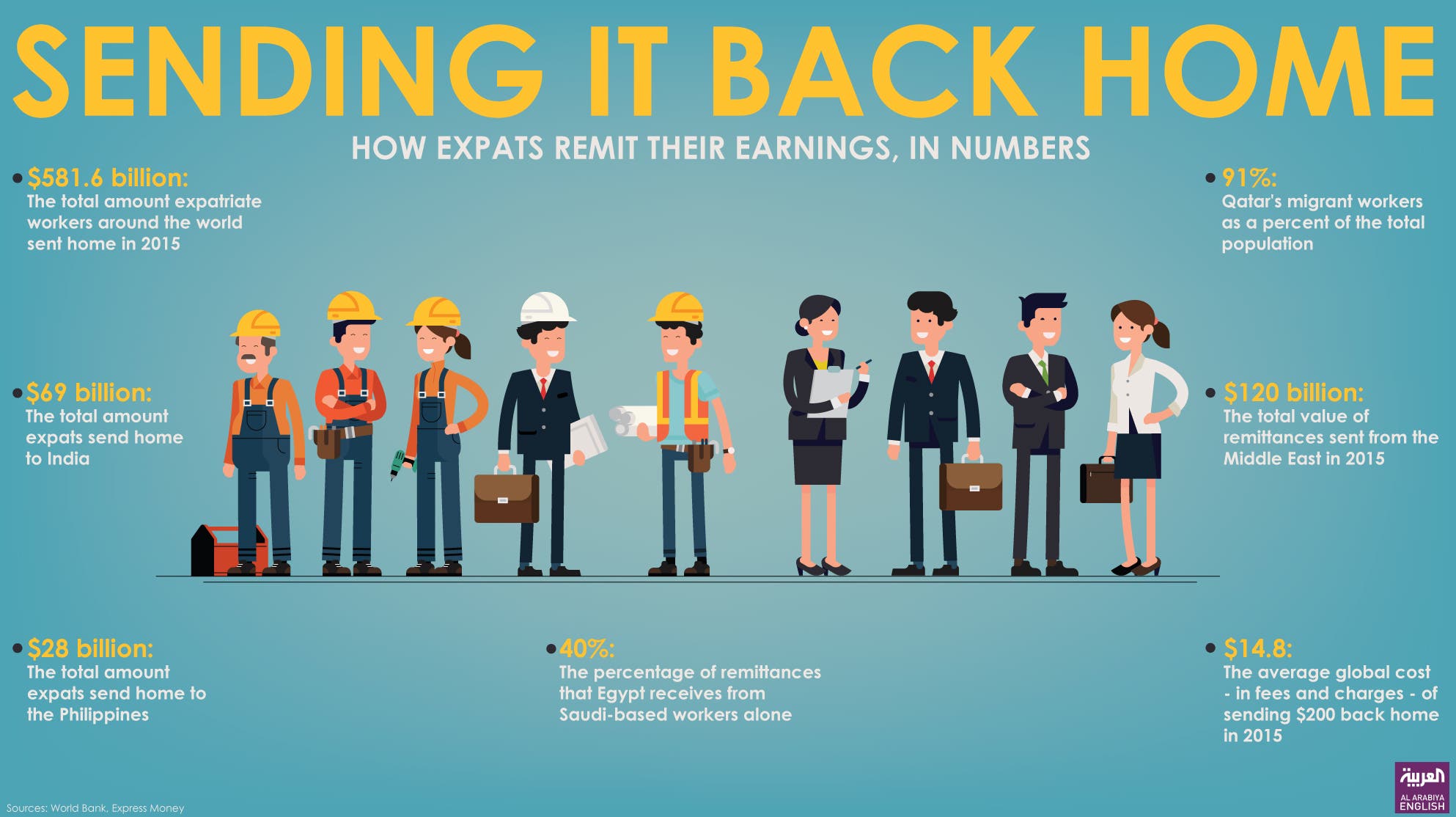 According to a World Bank report released this month, global remittances in 2015 - a figure it estimates at $581.6 billion - fell a total of 1.7 percent last year.
India topped the list as the world's largest recipient of remittances from abroad, with its citizens sending home $69 billion.
However, the world's second most populous country saw a $1 billion drop from the previous year, the first such decline since the global economic recession in 2009.
In the UAE alone, Indian and Pakistani expats make up around 40 percent, or 3.8 million, of the country's total population.
Despite over a year of low oil prices, and resulting job cuts in the energy and banking sector, the UAE economy is expected to weather the storm, according to a report from a large US lender this week.
'Soft landing'
"We continue to think that the UAE is headed for a soft landing," an economist at the Bank of America's investment arm was quoted as saying by local daily Gulf News.
The flow of remittances this year is so far "stable and not affected much," said C. Radhakrishnan, an executive at the UAE-based transfer chain Wall Street Exchange. "We are looking at an increase in the remittances barring the current scenario."
Large state-led infrastructure projects in the Gulf are keeping remittances stable, said the Xpress Money executive.
Giriyan, along with some other UAE executives, is keen to cite Dubai's hosting of the world expo in 2020 as a driver for growth.
Work on related projects "will lead to rise in migration and remittances," he added.
In Qatar - whose emir warned his citizens last year that the government can no longer 'provide for everything' - the football World Cup tournament in 2020 could keep the flow of remittances steady, said the executive.
The World Bank, however, expects a rise in living costs due to anticipated further subsidy cuts - and the planned introduction of value added taxes - from Gulf states.
The rise in living costs would prompt migrants to "reduce the amount of the money sent home," according to the report.
Expat remittances have since last year been buoyed by the relative strength of the dollar, said Nour al-Hammoury, chief market strategist at ADS Securities, a trading firm based in the UAE's capital. All Gulf states, apart from Kuwait, have their currencies pegged to the US currency.
But some currencies, such as India's Rupee, have strengthened against the dollar. "Anyone sending monies home to India now gets nearly five percent less for their dirhams," Hammoury added, referring to the UAE's currency.
In Saudi Arabia, where expats – most on temporary work permits - sent home close to $37 billion of remittances in 2014, the government is considering a US-style green card system in an attempt to stem the flow of money leaving its shores.
The new system, if implemented, would cut down remittances by up to 30 percent, a source told the local paper Saudi Gazette.