Tunisian startup aims to be 'Google of healthcare' in country
Through AlloTabib, patients can see each doctor's schedule, along with their qualifications, patient reviews, photos, to choose the best practitioner
A Tunisian startup that enables patients to easily find and book a doctor online aims to be the "Google of healthcare" in the North African country of 11 million people, the site's founder says.
AlloTabib (Arabic slang for Hello Doctor) allows patients to easily find a suitable, available doctor nearby and then book an appointment online. Its 32-year-old founder, Rebai Hamida, says that 312 doctors and over 1,200 patients have signed up so far.
Hamida graduated from a university in Carthage, Tunisia, and has over seven years of experience in software development, some of the time spent working for multinational companies.
She was inspired to create AlloTabib after noticing how Tunisia's often chaotic healthcare system prevented patients from receiving adequate care on time – a dysfunction that sometimes leads to patients dying while waiting for appointments.
Through the site, patients can see each doctor's schedule, along with their qualifications, patient reviews and photos to choose the best practitioner. From there, patients select a timeslot and complete a brief checkout process to book an appointment.
The service eliminates time-consuming phone calls so that patients can book an appointment at any time - even when the doctor's office is closed.
The technology allows patients to get seen faster by a the doctor by showing a hidden supply of doctor appointments - including last-minute cancellations - and making them immediately available online.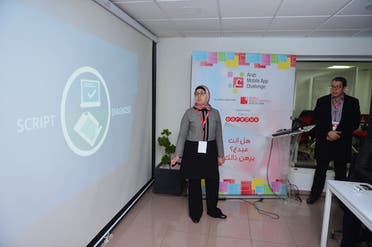 "I keep dreaming to offer more and more functionalities to make life easier to doctor, patient and every person who works in healthcare like a nurse or pharmacist," she told Al Arabiya English.
Health dreams
This week, Hamida is attending the Global Entrepreneurship Summit, held at Stanford University in Silicon Valley, in a bid to promote and find funding for AlloTabib. She is looking for over $100,000 to pay for salaries to recruit more employees and start a marketing campaign to attract more patients and doctors.
AlloTabib currently operates like a family business: Hamida's husband works as a network administrator for the site, while her sister, Rebai Sinda, is helps out with marketing and an Android app version of the site.
Hamida's plans are ambitious. In five years, she hopes to manage data for 100 percent of the country's hospitals and patients, 90 percent of its private doctors, and 70 percent of its clinics.
"If after few years, I can achieve this, it will be certainly a big revolution in healthcare," she said.
"I believe that I have to make a change in my country, I can't live without leaving my footprint."