COVID couture: Dubai-based designer upcycles Spinneys bags into eco-friendly products
Residents of the UAE and the wider region will instantly recognize the popular yellow Spinneys plastic bag, used by supermarket shoppers. In an unconventional move, however, an Irish newcomer to Dubai has cleverly taken an eco-friendly step by collecting the bags and upcycling them into a new repurposed line of bags.
An advocate of "slow fashion," a sustainability-focused movement of pacing down the speed of production, creating high-quality clothing for long-term use and providing a safe, fairly paid work environment for artisans, Christine Wilson encourages the creative and ethical act of upcycling – breathing life into old materials by transforming them into something new and useful.
"It's about valuing what already exists, instead of creating new resources that are heavy on the environment," said Wilson, 35, in an interview with Al Arabiya English. "We have enough plastic and metals in this world to do everything we need to do without making more."
For all the latest headlines follow our Google News channel online or via the app.
Modern society has generated millions of tons of plastic over the past 70 years.
From 1950 until 2015, plastic production skyrocketed from 2.3 million tons to 448 million tons, according to figures from National Geographic.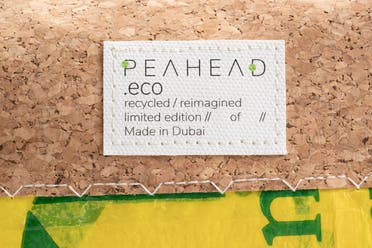 As a consequence of mass production, single-use plastic has caused immense pollution in the world's oceans – an issue that remains one of the largest challenges humanity faces.
Although plastic has its benefits, including durability and affordability, 6.4 million tonnes of it are dumped yearly into the ocean, damaging the wellbeing of marine life and ecosystems.
Wilson's work may be a drop in the bucket toward creating a circular economy for plastic, but it is one small step toward preventing some plastic from ending up in the ocean.
A few weeks after lockdown was declared across the country in late March to curb the spread of COVID-19, film production professional Wilson started her quarantine project "Peahead.Eco," named after a nickname her father had given her. Equipped with a sewing machine, YouTube tutorials, pieces of old and used curtains, plastic bags, Wilson set to work designing and making the bags.
"It wasn't almost a sense of designing something, but it was what do I have the skills to make," she said explaining her process of producing sustainable yet quirky bags and accessories. "It certainly wasn't a conscious decision to sit down and say, 'I'm going to launch a bag company.' I mean, who in the right mind would say that during quarantine? But, surprisingly, people have just responded so positively to the bags."
The specific choice of designating the Spinneys bag for her accessories was pure coincidence, as she noticed "the wind swirling these yellows plastic bags in the air" in her former residential community.
"The Spinneys bags, in particular, are so iconic for this region," she said. "And people are saying that it's great that someone is doing something with these bags. I think that's probably why it's really sparked people's interest."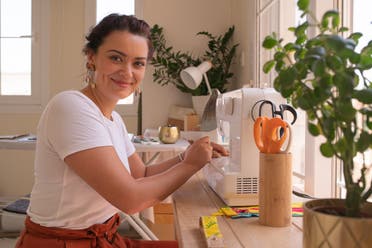 Indeed iconic, the major supermarket chain has a long history in the region, dating back to the 1920s. The British military officer Arthur Rawdon Spinney, founded the first Spinneys' branch in Jaffa, Mandate Palestine, to provide British goods to British people residing there.
Since then, many branches have popped up in Beirut, Cairo, and Dubai, with its inaugural store opening in Deira's Al Nasr Square in 1962, a decade prior to the unification of the UAE.
Having recently settled in the region, Wilson is in awe of Arabic typography, which is an element of the carrier bag's design.
Read more:
Lebanon music festival is a 'fighter,' held despite coronavirus, economic collapse
Coronavirus: Air Arabia Abu Dhabi starts flights to Egypt from July 14 for travelers
"It's a beautiful looking scripture, so I think it lends itself very well to design, because it is beautiful," she said.
Dubai's contemporary art museum, Jameel Arts Centre, has begun selling Peahead.Eco's bags next to products of other homegrown talent in their shop.
"To see my bags alongside them was really exciting," shared Wilson. "It gave me a real pride. I've been embraced by Dubai, and I'm part of it now and not just a tourist. I felt really welcomed to the place for the first time."
To create her "Covid Couture" – as she describes it on her Instagram page, Wilson – who moved from her native Ireland to Dubai eight months ago – started gathering Spinneys bags from neighbors, and fused them with cotton curtain, and finished them with brass clasps and zips.
Today, Wilson can spend up to 6.5 hours to make some items. Aside from working on large tote bags, Wilson also designs smaller items, including purses, toiletry bags, and soon-to-come dog leashes.
Connected to the local culture, each of her crafted items pay homage to Dubai's natural scenery in a subtle way. She elaborated, for example, that Dubai's sandy dunes were of great inspiration to her, pushing her to also use the natural feel of cork leather – reminding her of the softness of these landscapes – in her bags.
"I wanted to kind of emulate that in the design so that there is a connection somewhere in your mind that is of your surroundings. It's made here, it's from here, and it's about here," said Wilson.
Read more:
'Welcome again in your second home:' Dubai greets tourists with coronavirus controls
Coronavirus outbreak in UAE ranks at relatively low risk: Experts' COVID-19 map
Shortly after the birth of Peahead.Eco, Dubai's Spinneys team reached out to Wilson to collaborate. While she said she was grateful, she declined their offer, instead advising them to introduce charges on plastic bags to reduce waste.
As countries around the world attempt to minimize plastic bag pollution, governments have regulated single-use plastic bag usage through taxes or partial bans. In 127 countries, some type of control has been implemented on single-use plastic bags, according to research shared by the United Nations in 2018.
In the Arab world, specifically, Dubai Airports decided earlier this year to phase out single-use plastic in all its terminals, whereas authorities from Abu Dhabi recently announced plans to charge for plastic bag use. Meanwhile, countries like Tunisia and Oman are aiming to ban plastic bag consumption by 2021.