Trump 'not racist but worse, an opportunist': analysts at AMF say
Hindustan Times' Shobhana Bhartia said Trump wasn't the only one feeding off people's polarization, accussing media outlets of inflaming rhetoric
US Republican front-runner Donald Trump may not truly be a racist, but his opportunist tactics make him even worse, leading Saudi writer Abdulrahman al-Rashed said during a panel discussion at the Arab Media Forum on Wednesday.
"I don't believe Trump is truly a racist, as he's been known to have hired diverse staff during his career. I think he's being an opportunist, taking advantage of the polarizing shifts in America, and that makes him actually worse," Rashed said during the session he shared with Hindustan Times chairperson Shobhana Bhartia and moderated by The National's Editor-in-Chief Mohammed al-Otaiba.
Bhartia said Trump was not the only one feeding off people's polarization, with several media outlets playing a role over the past several years in inflaming rhetoric.
"Some media organizations tug at the chords and sensitivities of racism, but I believe that some of the elite and prestigious institutions still respect the mission and principles of journalism," she said.
Clash or dialogue?
The central question Otaiba posed to the panel was whether the media during tumultuous times emphasized a more positive narrative - a dialogue of civilizations as opposed to a clash.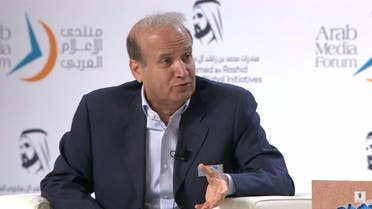 Bhartia said it could, adding: "The role of the media is to challenge, inject plurality and make you aware of certain things."
Rashed highlighted two problems facing the media: "First, the nature of journalism in the region is competitive, so outlets find themselves forced in line with the market. The second problem here is that of social media, taking anyone above the role and status of a journalist," he said.
Co-existence
Otaiba asked Bhartia why Indians were able to relatively live in peace with one another. She said it was because India was able to enshrine secular ideals in its constitution since independence.
She added that after independence, as well as after India and Pakistan split, her country emerged as a secular state.
As such, India was able to deal with everyone equally "under the umbrella of Indian cultural identity."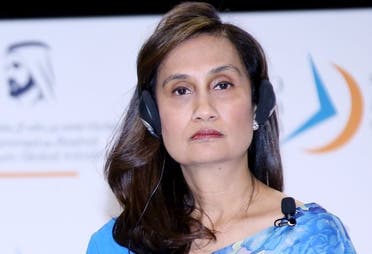 She added: "Because we were able to become a secular state, the importance of the rule of law and jurisdiction meant minorities were able to get protection."
On the same subject, Rashed said most Arab countries lacked the necessary judicial processes to enable people to co-exist.
"Developed countries established over the years laws to deal with the issue of racism and determine the rights, duties and freedoms in a clear manner.
"The lack of clear rules between the right of expression and free speech that may harm others in our region causes the differences within the same society to widen even further."