Syrian-Lebanese rumored to succeed Maduro in Venezuela
Congress voted yesterday to impeach President Nicolas Maduro declaring him unfit
A new crisis emerged in Venezuela as Congress voted yesterday to impeach President Nicolas Maduro declaring him unfit as he has abandoned his post, according to Reuters.
This paves the way for Vice President Tareck El Aissami, a descendent of Syrian-Lebanese parents, to fill the first seat in the country.
Venezuelan law states that the vice president is to become president for the first two years, or the remaining years of the mandate of the president whichever is less.
This happened last year in Brazil, after the impeachment and removal of Dilma Rousseff, when Michel Temer became president having served as vice president since 2011 and as acting president since May 12, 2016.
Who is Tareck El Aissami Maddah?
He served as the governor of Aragua, overlooking the central north of Venezuela on the Caribbean Sea, from 2012 until 2017. He was born on November 12, 1974. He was the second of five children.
His father, Zaidan El Amin El Aissami, allegedly associated with Saddam Hussein, moved from the As-Suwayda Governorate.
He was a Druze immigrant from Jabaal al-Druze in Syria. His mother is the heir of the Lebanese Maddah family. Like her husband, she follows the Druze faith, forming the largest proportion of 200 thousand Lebanese and Syrian expatriate residing in Venezuela who has a population of 32 million people.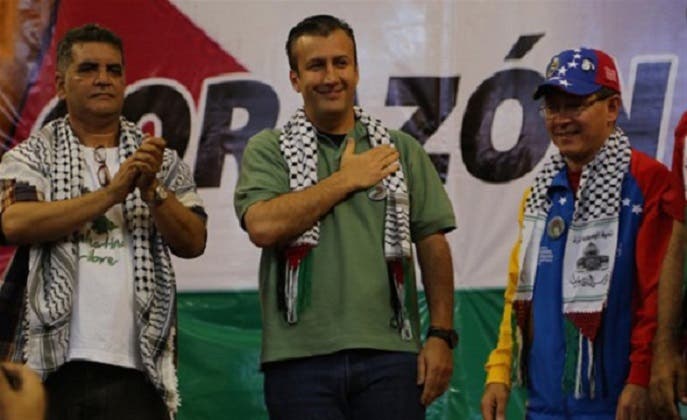 As Vice-President
A week ago, President Nicolas Maduro appointed El Aissami Maddah as Vice-President on January 4, 2017, for a one-year mandate. The opposition, which won a majority in the parliament in the election of last December, was outraged by the decision of the president.
They claim El Aissami Maddah is a drug dealer, has connections with Iran, Hamas and Hezbollah and also anti-Semitic. El Aissami Maddah quickly responded to his opponents describing them as "a handful of traitors, harming the homeland".
In the past, El Aissami Maddah was active as a student leader during his college years in the Los Andes University, where he earned a law degree. He later worked as a criminal lawyer. In 1999, he joined the Unified Socialist Party, the ruling party.
He soon became one of the leaders. He served as Minister of the Interior and Justice from 2008 to 2012 during the reign of ex-President Hugo Chavez, who died after a long battle with cancer.
He visited Syria in 2009, specifically the region of the Druze, where he praised the leader of the "Great Syrian Revolution", Sultan Pasha al-Atrash.