The story behind Abraham's shrine at the Kaaba
Throughout history, the shrine hs remained adjacent to the sacred Kaaba and is one of the landmarks of Mecca
Mohi Eddine Hashemi, researcher in the affairs of the Two Holy Mosques in Saudi Arabia, explained that God brought down to Prophets Ishmael and Abraham the black stone and the shrine from paradise, after they were ordered to lift the foundations of the Kaaba.
Hashemi added that the shrine stone is marked by two foot prints on them. It is told that after finishing the construction of the old house, Prophet Abraham stood up on the stone; his foot dived into it to commemorate the construction of the sacred house.
Throughout history, it remained adjacent to the sacred Kaaba and one of the landmarks of Mecca.
Hashemi pointed out that the foot prints faded away and the toe marks almost disappeared because the stone was exposed to the public, in which large number of people touched it over the years.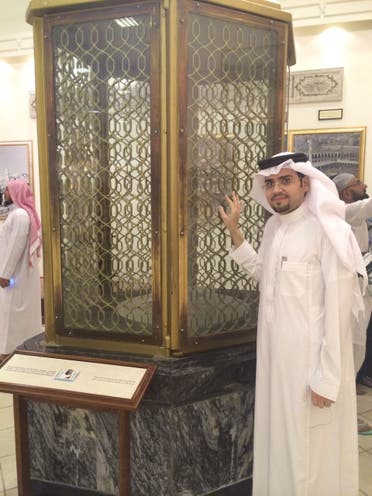 When Prophet Mohamed conquered Mecca, he and his companions decided to transport the stone from its original location near the Kaaba to its current location at a distance of more than 10 meters, in order to facilitate the circumambulation ritual and to enable worshipers to pray behind the shrine as described in the Koran.
According to historians, the first ruler to cover the shrine was the Abbasid Caliph al-Mahdi.
Caliph Al-Mutawakkil covered it with gold and silver to strengthen it.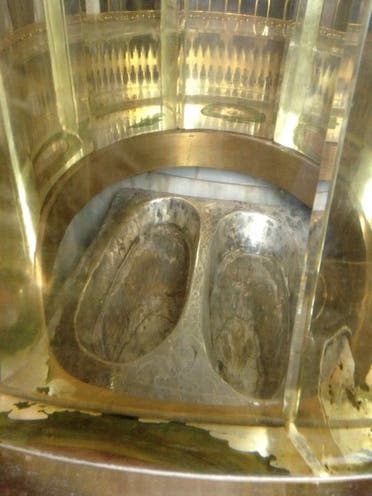 In the Saudi era, specifically in the reign of King Faisal, expansion works were ordered and buildings were removed to facilitate the circumambulation rituals for better ease. A crystal glass and a silver cover were installed then installed.
It has been renovated after the restoration works that took place during the reign of King Fahd, heat resistant and shatter proof frosted glass has been placed above the shrine covered in copper encased in gold.