Writer and Assistant Professor at Sultan Qaboos University Emily O'Dell recently published a photo of a dilapidated house with a tweet saying: "Malcolm X had lunch in this house when he visited Sudan… it remains one of my favorite corners."

O'Dell, whose writings appear in several prominent newspapers such the New York Times, summed up her recent visit to Sudan in an article titled "Following in the Footsteps of Malcom" published by the Huffington Post.
Malcolm X visit to Sudan in 1959
O'Dell said she has been re-tracing the footsteps of Malcolm X in Lebanon and Sudan, where he traveled to the latter in 1959. For this reason, she visited Khartoum and Beirut accompanied by Lebanese and Sudanese friends.

"Malcolm's travels in the Middle East and Africa put him in touch with the most progressive revolutionary movements of his time," she wrote.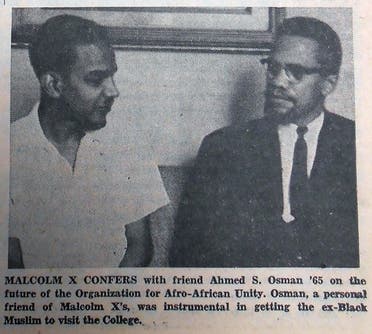 "His ongoing contacts with Sudanese students, scholars, and religious leaders in Lebanon, Sudan, and America helped transform his beliefs about religion and race," she added.

O'Dell explained that when Malcolm traveled to Sudan as a spokesman for the Nation of Islam, his host over there was named Malik Badri.
From confrontation to friendship
A confrontation between Malcolm X and a Sudanese student in America eventually grew into a friendship.

Ahmed Osman, a Sudanese student from Dartmouth College, challenged Malcolm face to face in Harlem's Mosque Number 7 in 1963, expressing his belief that Islam had no place for hatred based on race.
According to Emily: "Malcolm convinced the hostile crowd of hundreds to listen with an open mind to Osman".
"The two men began corresponding by mail. After Malcolm left the Nation of Islam, he turned to Osman for spiritual advice," O'Dell wrote.
Malcolm X and Sheikh Hassoun
In 1964, Malcolm met his Sudanese spiritual advisor Sheik Ahmad Hassoun in Mecca, where Malcolm's views on race were challenged by the spirit of the Hajj, him being one of the advocates of the black movement and their rights in America at the peak of the clashes during the sixties. The two appeared in a black and white photo in Sudan in 1959.
Malcolm's fears of being assassinated
Before leaving Beirut, Malcolm told Malik Badri that back in the United States he expected to be harassed by his opponents – the followers of the Nation of Islam – as a result of fall out with its leader Elijah Muhammad, and his intuition was right and upon his return, his home was attacked by Molotov fire.
When Malcolm returned to America, Ahmed Osman arranged for him to speak at Dartmouth and Harvard on human rights, imperialism, and capitalism. The best hope for equality, Malcolm concluded at Dartmouth, "rested with the youth of the World and the "humans of the world working together."

Following Malcolm's assassination on Feb. 21, 1965, Sheikh Hassoun prepared his body for burial and Ahmed Osman denounced the media's "distorted" memorialization of Malcolm X.
Osman wrote in a Dartmouth College newspaper: "This is Malcolm as I had known him. They accused him of violence and he was never involved in any violence, private or public, overt or covert."

He carried on: "They accused him of preaching segregation and being a racist, and he never advocated any of this since his return from the pilgrimage to Mecca."