Being convened a year after the founding of the League of Arab States regional organization, the Inshas Summit in 1946 was largely considered as the first Arab summit attended by the seven founding states: Egypt, Saudi Arabia, Yemen, Syria, Jordan, Iraq, and Lebanon.
The main agenda of the converge was to end the aggression against Palestine and call for the liberation of Arab states from colonialism.
Some argue the actual first Arab League Summit was summoned by the late Egyptian president Gamal Abdel Nasser in Cairo on January 13, 1964, arguing that the Inshas meeting was considered an emergency summit.
The Arab League council is a body established to protect and safeguard the security, stability and the sovereignty of its state members from any aggression or threat.
Participants in the first Summit
The summit was held over two days - 28 and 29 May - at king Farouk's Anshas palace, 60 kilometers north east of Cairo, and was attended by: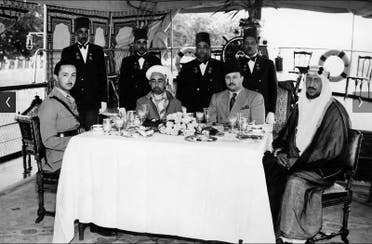 Prince Abdullah I of the Emirate of Transjordan, which was established after independence from Britain, Saudi Crown Prince Saud bin Abdulaziz al-Saud, Saif al-Islam Ibrahim bin Yahya Hamid al-Din, son of Yemen Imam Yahya Hamid al-Din, Abdulillah bin Ali Al Hashemi, the guardian of Iraq's throne, Bishara al-Khouri, the first president of the Lebanese Republic after independence, and Shukri al-Quwatli, president of Syria.
Commemorative stamps
The summit ceremony, which was simple and attentively organized, was widely celebrated and commemorative stamps were issued for each of the participating dignitaries.
Inshas Summit recommendations
Rather than a final communiqué, the historical event culminated with a number of resolutions, one of which emphasized the assistance of other Arab states to gain their independence from colonization.
The summit also called for the refocusing of the Palestinian cause as a focal regional issue and underscored the necessity to counter the challenge of Zionism. In addition, it called for the halting of the Jewish migration and acquiring of Arab lands, and working to achieve Palestine's independence.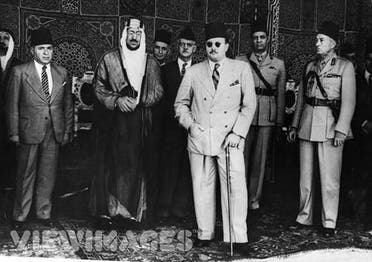 The summit also affirmed that any policy of aggression adopted by the American and British governments of against Palestine was considered a policy of aggression toward all the Arab League states.