Doctors in Syria's Ghouta describe counting body parts in horrific interviews
Counting body parts, searching for life under the rubble, escaping bomb sites for fear of a second attack, and having nothing to eat. This is a day in the life of doctors in Syria's eastern Ghouta.
A series of haunting testimonies by medical staff currently in the bomb-battered rebel enclave has revealed they are failing to keep up with the intensity of regime strikes.
More than 630 people have been killed and 3,300 wounded since Feb. 18, according to the latest under-estimated figures provided to Al Arabiya English by Médecins Sans Frontières (MSF).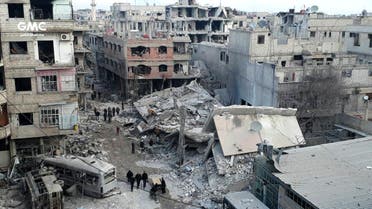 There are reports of doctors and nurses collapsing as their medical response reaches its limits, with hospitals and field clinics routinely becoming targets.
Below are the testimonials of MSF-supported staff currently in Ghouta. Their names have been protected.
Male medical assistant – working in a health clinic – 23 February
"Our medical point was bombed. We relocated to another place. That place also got bombed. That second time, the rescuers and others around the area rushed in to excavate people from under the rubble and that's when a second bombing happened on that same spot, just when the people were all gathered there. We had around 100 people wounded and no working facility."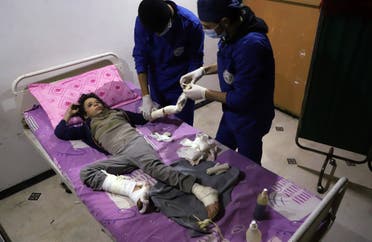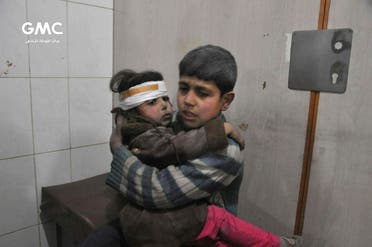 Female doctor – manager of a major field hospital – 24 February
"If you count the hundreds of bodies, the ones alive, and the ones dead; the body parts; there is nothing we can do for them. Even if we had enough supplies, there's nothing we can do to answer to such a huge number of people. It's not so much medical supplies that we need from you, but your help in stopping the bombing."
"We cannot transfer any patients out of our hospital. Any person, on foot or in a car, in the streets, will surely die. We are even unable to refer patients that need intensive care to the Intensive Care Unit that is 5km away. We are obliged to keep them here, and here we do not have respiratory masks. We are resorting to the use of manual ventilators, and so each patient permanently needs somebody to operate that ventilator. With so many patients coming it's impossible - we are losing so many patients because of the shortages we have. Patients would have a chance if we could refer them 5km to the ICU, but with the intensity of the bombing we can't."
Male doctor – working in a field hospital – 24 February
"Our hospital is full, and we already got hit twice. When the patients started overflowing, we reassigned another location normally used as an outpatient clinic close to us. We are now using it just to have enough space to give whatever care we can to the patients. We are 250 people (between staff and patients) and we have nothing to eat."
Male doctor– working in a field hospital – 24 February
"It's getting very difficult to refer patients. Anytime an ambulance leaves the facility, it gets bombed. The only way we have to refer patients is via tunnels."
READ ALSO: Syrian child, 3, dies after suffocating in Eastern Ghouta 'chlorine attack'