Carrying red flags and posters of Karl Marx, hundreds of Iraqi communists marched Tuesday in Baghdad for May Day, convinced their joint list with Shiite leader Muqtada Sadr can win this month's election.
In a joyful procession, demonstrators also waved the blue flags of their electoral list and chanted slogans like "Listen to the will of the people: reform and the end of corruption" and "The workers are the spearhead of the country".
For the first time in Iraq's history Shiite clerics have allied with the hammer and sickle of secular communists in a joint list for the May 12 parliamentary polls.
The Marching Towards Reform alliance is made up of six mostly secular groups, including Iraq's communist party and Istaqma, a party of technocrats backed by Muqtada Sadr, who suspended his Ahrar bloc and called on his 34 deputies not to run in the polls.
"It's not unrealistic that our joint list gets 40 deputies and is in the lead. The feedback we receive is very positive," Raed Fahmi, leader of the Iraq's Communist Party which currently has one representative in parliament, told AFP.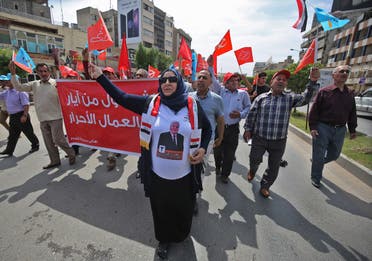 The joint list has 623 candidates across the country, with the exception of Kurdistan's three provinces and Kirkuk.
Gray-haired and smiling, 58-year-old Jassem al-Hilfi thinks "there will be a surprise" at this year's polls.
"The list that comes in first could perhaps be us," said the communist organizer of major anti-corruption protests launched in the summer of 2015.
His calculation is simple. In the 2014 elections, Shiite religious parties won 104 seats.
But "today, they are divided into four, so no one will be able to surpass us if we get 40 seats, which is quite possible since the Sadrists already have 34 seats on their own".
If the joint list wins, "we will ask to form a government with other components, and if they refuse to join us, we will be the main opposition force against the corrupt," added Hilfi.