A rare virus spread by fruit bats, which can cause flu-like symptoms and brain damage, has killed 10 people in southern India, health officials said on Tuesday, with at least two more cases being monitored.
Infectious disease outbreaks can be a challenge in the world's second most populous country, where infection control and surveillance are weak, leading to hundreds of deaths annually from diseases such as mosquito-borne dengue.
There is no vaccine for the Nipah virus that has broken out in Kerala state. It can cause encephalitis, or inflammation of the brain, the World Health Organization says. The usual treatment is supportive care.
The first death happened on Friday in the district of Kozhikode, said K.K. Shailaja, health minister of the state, a magnet for tourists. "This is a new situation for us. We have no prior experience in dealing with the Nipah virus," said Shailaja. "We are hopeful we can put a stop to the outbreak."
ALSO READ: Nipah virus kills at least three in India, sparks alert
Of 18 people screened for the virus, 12 came back positive, she told a news conference, adding that 10 of them had died, with the other two being monitored closely. Three of the victims, members of the same family, are suspected to have been infected by bats that crowded a well near their home, said a local government official, U. V. Jose.
"We have closed the well and evacuated the people living nearby," said Jose, adding that federal health officials who visited the area were investigating. The deaths had sparked concern among residents, he added.
"A large number of people affected by fever, and even minor ailments, are swarming to hospitals, fearing they have contracted the disease," Jose said. "We've sought the help of private hospitals to tide over the crisis." Health surveillance has been stepped up across Kerala, the state's health secretary, Rajeev Sadananda, told Reuters.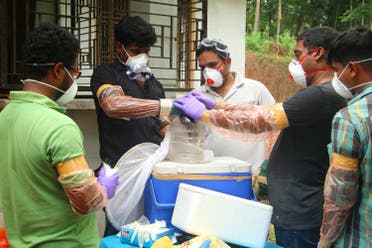 90 victims quarantined
The death toll from the rare Nipah virus in southern India has risen to at least 10, officials said Tuesday, with another 90 people quarantined to try to stem the spread of the disease.
Authorities in Kerala state have ordered emergency measures to control the virus, which is spread by fruit bats. Three of the fatalities are members of the same family -- dead bats were found in a well at their home.
"We sent 18 samples for testing. Out of these 12 tested positive. Ten of those who tested positive have died and the remaining two are undergoing treatment," a health official in Kerala's Kozhikode district, the centre of the outbreak, told AFP.
More than 90 people who have come into contact with those who died have been isolated, authorities said. Nipah has killed more than 260 people in Malaysia, Bangladesh and India since 1998 and has a mortality rate of nearly 70 percent, according to the World Health Organization.
There is no vaccination for the virus which induces flu-like symptoms that lead to an agonizing encephalitis and coma. The WHO has named Nipah as one of the eight priority diseases that could cause a global epidemic, alongside Ebola and Zika.
CM condoled over the demise of Lini, the nurse who died of infection while taking care of Nipah virus affected patients. It is saddening to know that she lost her life while serving others. Her selfless service will be remembered. pic.twitter.com/RaE973xRJ2

— CMO Kerala (@CMOKerala) May 22, 2018
Among the dead in the Kerala outbreak was nursing assistant and mother-of-two Lini Puthussery, who succumbed to the virus after treating Nipah patients.
Puthussery was cremated even before her family members could bid her a final goodbye because of fears the virus could spread. In a final note she scribbled in a hospital isolation unit, she urged her husband to take care of the children.
"I don't think I will be able to see you again. Sorry. Please take care of our children," she said. Kerala state Chief Minister Pinarayi Vijayan said Puthussery's "selfless service will be remembered". Authorities from Goa and Tamil Nadu states, neighboring Kerala, said they were monitoring the spread of the outbreak.
(With AFP inputs)