The historic meeting between the leaders of the United States and North Korea, and the resulting Korean Peninsula denuclearizing deal, has the potential of resolving a decades-old international crisis.
This very important development will most definitely have its impact on another flashpoint in today's world, being the Middle East, and most importantly, Iran.
Comprehensive document
The meeting between US President Donald Trump and North Korean leader Kim Jong-un is the first of its kind following the end of the Korean War back in 1953.
The signed document is currently dubbed as a "Comprehensive Document," sending a signal to the signatory parties of the 2015 "Joint Comprehensive Plan of Action" over the Iran nuclear program.
This agreement can is a cornerstone to include nuclear disarmament and halting its ballistic missile program by North Korea, and the US lifting its sanctions.
Prior to this signing, the Iranian Foreign Ministry claimed to agree with and welcome any peaceful measure. Following the signing, however, Tehran's tone changed drastically.
"The North Korean government should be on high alert in this regard," said Iranian Foreign Ministry spokesman Bahram Qassemi.
"North Korea should be on alert that the US President is not loyal to his signature," said Iranian government spokesman Mohammad Reza Nobakht.
Aside from these remarks, senior Iranian officials are concerned of North Korea sharing secrets of their nuclear and missile collaborations with the US and possibly other international community members.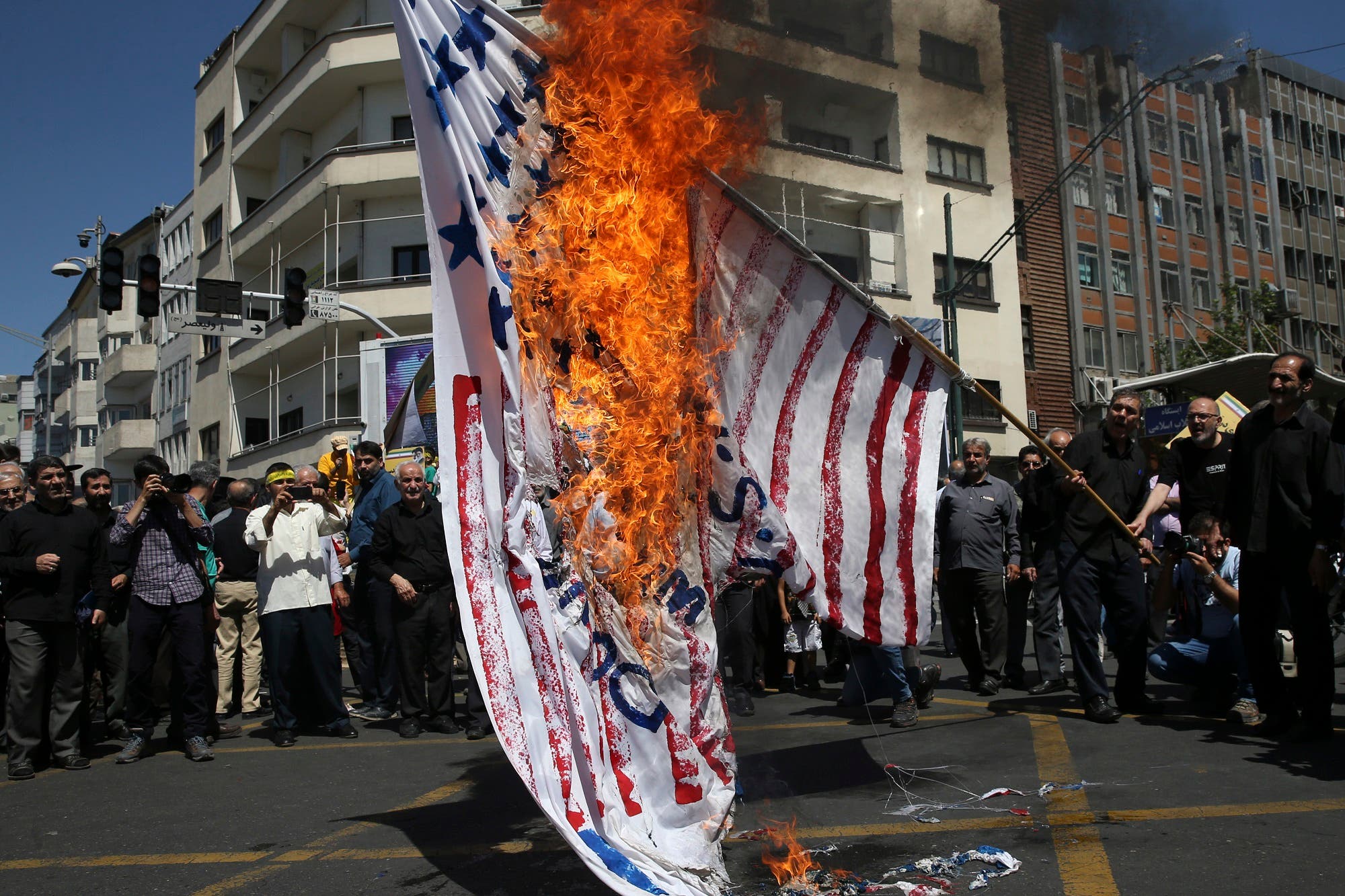 Iranian protesters burn a representation of the US flag at a rally in Tehran on June 8, 2018. (AP)
Different viewpoints
A variety of reactions have been heard from Iran's perspective.
There are those who believe the US/North Korea deal was made possible due to Pyongyong's ability to obtain nuclear weapons. As a result, this camp argues flatly against any thought of destroying Tehran's nuclear program or closing down its nuclear sites, let alone destroying them.
"Some experts have different viewpoints on this matter, claiming North Korea destroyed its nuclear sites due to its excessive age and being worn out," according to a piece in Iran's Vatane Emrooz daily.
"Despite sanctions and global threats, for years North Korean officials continued their nuclear and ballistic missile tests to now enjoy this capability of safeguarding their country," the piece adds.
Others in the Iranian regime are also voicing concerns of Washington having more dangerous intentions. "Trump seeks to force Iran into a new round of negotiations," according to the Hemayat daily.
Impact on Iran
There's no doubt the Trump/Kim summit will increase pressure on the Iranian regime domestically and internationally. Signs indicate a growing number of parties will be demanding Tehran to finalize its decision between:
a) Entering new talks with Washington after succumbing to the 12 conditions raised by US Secretary of State Mike Pompeo.
b) Standing firm on a 40-year long position and continuing their belligerence across the board.
Neglected in the past four decades is the fact that Iran has kicked the can down the road on this issue and taken advantage of surrounding developments to prolong its very existence.
The important factor here is the difference between North Korea and the Iranian regime. Despite the variety of claims heard about the result of the Trump/Kim agreement, North Korea's capacity made such a change in policy and strategy possible. The Iranian regime, on the other hand, lacks any such aptitude, proven in the past four decades.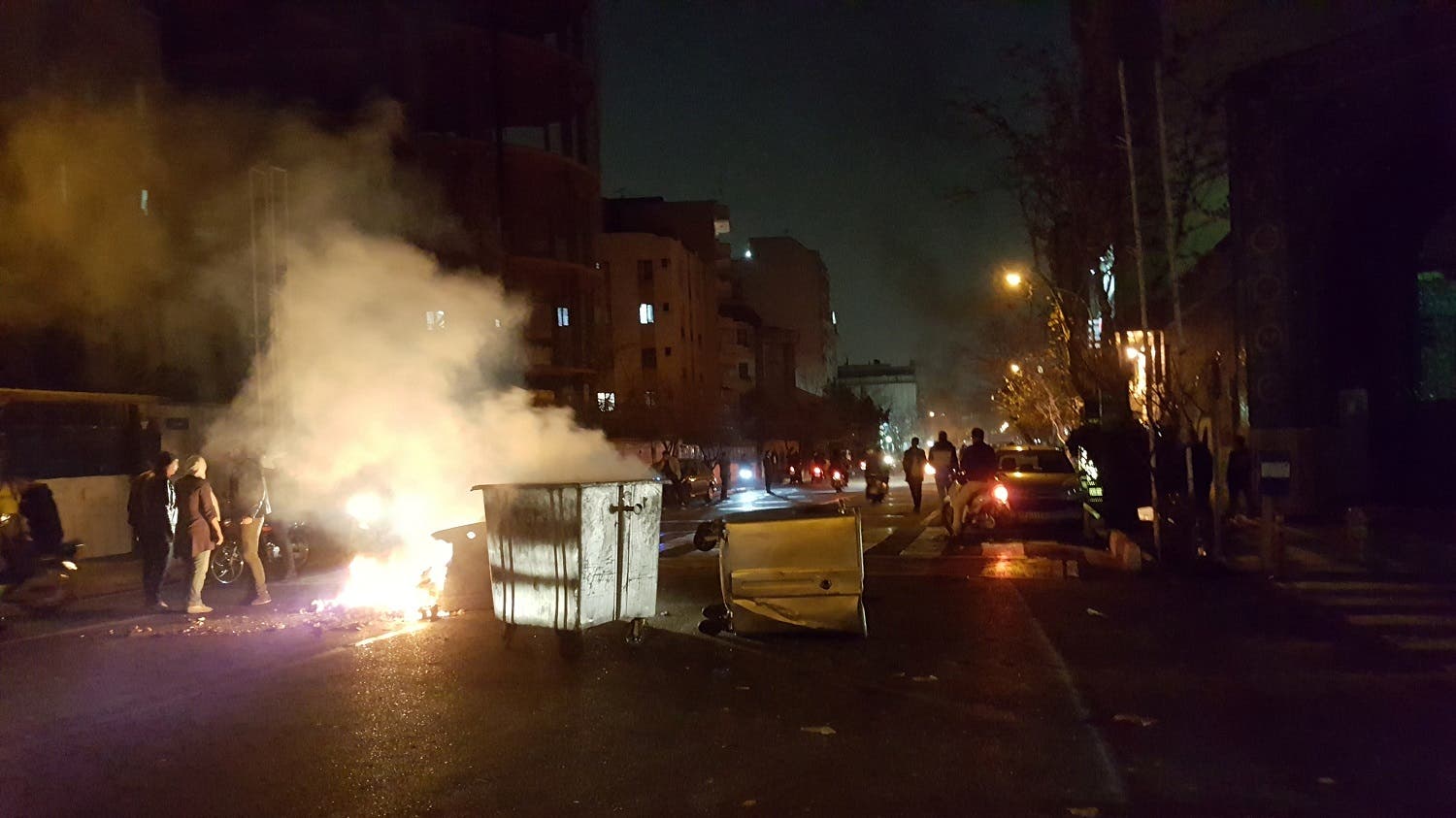 People protest in Tehran, Iran December 30, 2017 in in this picture obtained from social media. (Reuters)
Tehran is not Pyongyang
Another issue gone neglected is the fact that North Korea has never faced resistance from within or an organized opposition movement. While such a factor has plagued the Iranian regime ever since day one back in 1979.
This goes to prove that the deciding factor in Iran are the people and their opposition movement, symbolized in the National Council of Resistance of Iran (NCRI). This movement has encouraged and organized protests and uprisings for the past 40 years, especially since the Dec/Jan nationwide protests that swept 142 cities across Iran.
This phenomenon is Tehran's main concern and Pyongyang has been free of any such dilemma. Iran's society is a powder keg ready to explode and regime officials acknowledge the fact that their apparatus is facing 21 super challenges on a daily basis. This slate includes:
• The deep and increasing rift between the people and the ruling regime,
• The incurable trust divide as people continuously lose faith in anyone with any association to this regime,
• The people's abhorrence of the regime being present in every part of their daily lives,
• The active presence of educated women in daily protests,
• The climaxing water shortage crisis witnessed in numerous areas of the country,
• Unemployment and skyrocketing prices,
• Brain drain and the increasing flow of billions in currency exiting the country.
It is interesting how the status quo is the psychological impact of Trump exiting the nuclear deal as the 90-day and 180-day deadlines for returning sanctions have yet to arrive.
In such circumstances, with or without sanctions, with or without negotiations, the Iranian people will relentlessly continue their struggle against this regime.
Disclaimer - This author is writing under a pseudonym to protect his identity.
SHOW MORE
Last Update: Wednesday, 20 May 2020 KSA 09:51 - GMT 06:51