In a new video published by Iranian militias on social media, the commander of the Abu Fadl al-Abbas Brigade that is ideologically and logistically tied to Iran, Maher Ajeeb Jazza appeared in numerous villages in Daraa.
On its Facebook account, the of "Zulfiqar Brigade" militia said on Sunday they, along with the Syrian regime's army, are now in Tafs and Dael.
Several pictures of Abu al-Fadl al-Abbas Brigade's commander, as well as members of the Republican Guard, were published.
Iran established the Abu al-Fadl al-Abbas Brigade at the end of 2012 and appointed Maher Ajeeb Jazza, a Syrian citizen, as its leader. Jazza comes from a village with a Shiite majority called "Nabil" that are tied to the city of Aleppo.
In the video, sectarian slogans that Iran usually propagates to push its militias to go to Syria appeared on Jazza's arm.
The Assad regime changed the name of the organization, initially called Abu al-Fadl Brigade, to "The Republican Guard- Abu al-Fadl al-Abbas Brigade."
The regime did the same with another brigade, known as "Imam Hussain Brigade," which merged with Assad's army and battles under the fourth division headed by Major General Maher al-Assad.
The Abu al-Fadl Brigade has its headquarters in the "Sayeda Zeinab" district in the capital Damascus, where the majority of the "Iranian" militias are headquartered in Syria.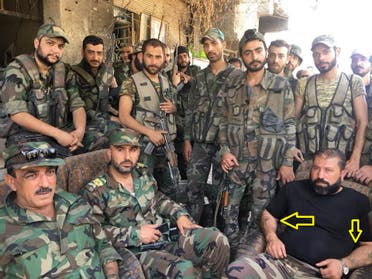 The militia's leader said that the Brigade was founded to defend "the shrine of Sayeda Zeinab," which has become the motto that Iran has spread to its militias in Syria.
Before the Assad regime launched its military operation in Daraa, Mojtaba Ferdosipour, Iran's ambassador to Jordan, said that Iran does not have military forces in southern Syria.
The military operation in Daraa has led to extensive destruction and left a large number of people dead and injured, in addition to displacing more than 200 thousand civilians who fled the war.
Russian Foreign Minister Sergey Lavrov urged foreign parties to withdraw from southern Syria. But Hezbollah's leader, Hassan Nasrallah, responded by saying "there is no power in the world," besides Bashar al-Assad, that could get Iran out of Syrian.