The Joint Commission tasked to review the Iran nuclear deal ended Friday with no tangible results, Europe providing a low-temperature package to Tehran, and the regime's mission returning him disappointed.
The joint statement issued afterwards presents nearly nothing new on the nuclear deal, formally known as the Joint Comprehensive Plan of Action (JCPOA), and Iranian Foreign Minister Mohammad Javad Zarif became a no-show for the concluding press conference.
These are signs of the rules of play changing, leaving the Iranian regime facing a very stiff uphill battle of stalling to kick back the inevitable.
The meeting
Prior to leaving for Vienna, French Foreign Minister Jean Yves Le Drian specifically warned Tehran should stop issuing threats to violate its JCPOA commitments. Iran must end these remarks aimed at preventing us from finding a solution, he added, going on to say he doubts any economic package can be provided to Tehran prior to November.
The Vienna session was chaired by European Union foreign policy chief Frederica Mogherini and the foreign ministers of the United Kingdom, China, France, Germany and Russia took part in talks with Zarif.
Considering the fact that details regarding the issues discussed inside the session are obviously unavailable, signs from the meeting participants outside of their talks are quite telling.
All Mogherini could deliver at the finale press conference were pledges of further talks to cover economic issues and that all parties should seek methods to save the deal. Further sessions between the foreign ministers will be held if deemed necessary, she added, showing signs of futility.
Adding to Zarif not attending this press conference, the fact that Mogherini only read a written statement and refused to answer any questions from reporters are also quite notable.
Compiling Iran's miseries even further is how the Vienna talks were overshadowed by the arrest of an Iranian-Belgian couple reportedly dispatched by Tehran to bomb the June 30th Iranian opposition convention near Paris.
Iran's complaints
As the Joint Commission came to an end, Zarif was seen resorting to a known tactic of the Iranian regime.
"Up to now no one has been able to resolve the U.S. exiting the JCPOA and this issue remains unsettled. Therefore, we have the right to take action," he said.
This may seem a significant threat to the naked eye and those not familiar with Tehran's playbook. To provide further understanding, quite considerable are his follow-up remarks making a U-turn from Tehran's previous position of Europe's suggestions not fitting Iran's demands.
"The European package appears practical. We have postponed our measures in respect to requests placed by other JCPOA members, in order to become certain that our interests are preserved. We have always remained loyal to our commitments and we are so now," he added.
Back in Iran, however, the Tasnim news agency, known to be affiliated to Iran's Revolutionary Guards (IRGC) Quds Force, published Zarif's remarks, delivering an interesting twist to this scenario.
"Zarif had specifically said prior to the Joint Commission meeting that we expect European countries to provide verifiable and applicable commitments, instead of confusing and deceiving pledges," the piece read in part.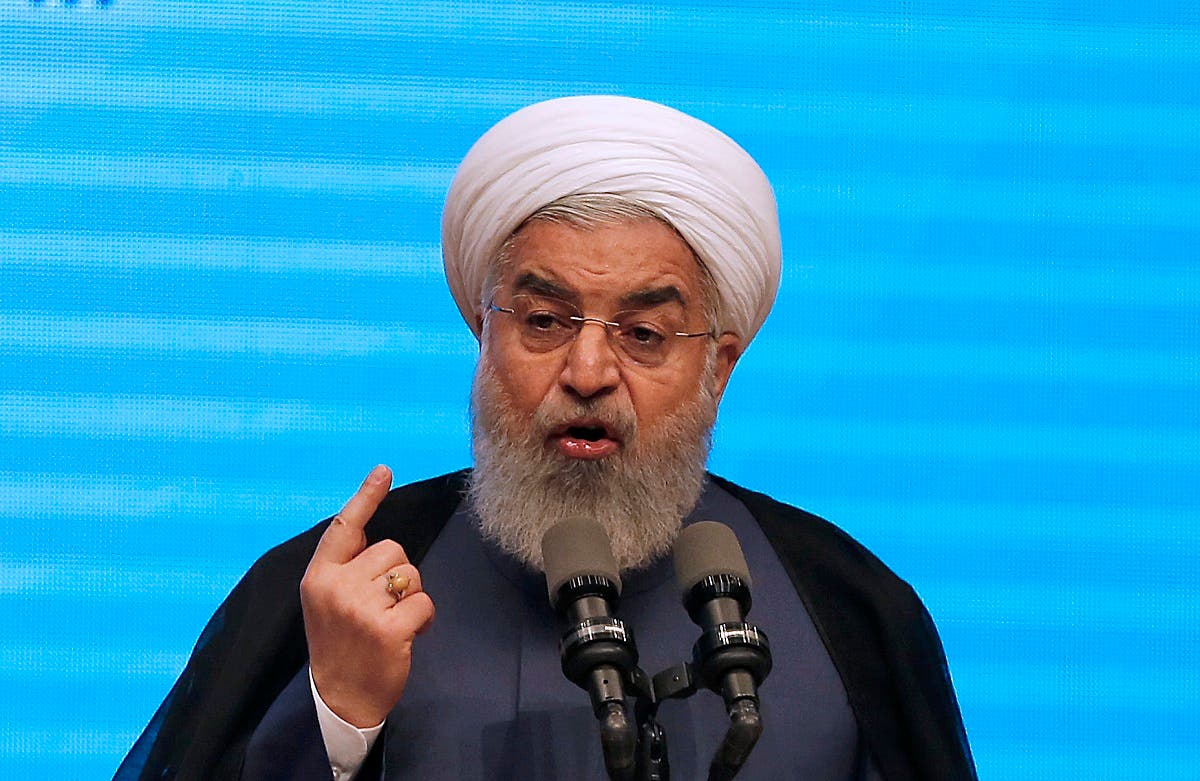 Wake-up call
It is understanding that all parties enter talks seeking their own interests. The final statements, however, and how senior officials express their thoughts are the source of supplemental discussions and analysis.
During the negotiations Iranian President Hassan Rouhani described the European package as "disappointing." This is a very telling insignia of how Tehran is further understanding the times have changed completely.
Unlike eights years of Obama's full-fledged appeasement, allowing all parties take advantage and leaving the Iranian people to suffer, the firm blueprint now adopted by Washington is making Europe think twice and leaving the Iranian regime standing in the rain.
Rouhani's own words explain it all. "Unfortunately, the proposed package lacked any operational solution and specific method to continue our collaboration. This was merely a series of general commitments in the ranks of previous European Union statements… Following the US' JCPOA exit, we have been experiencing economic, banking and oil dilemmas, alongside various companies becoming doubtful regarding their investments in Iran and continuing their activities with our country," he said.
US sanctions
German Chancellor Angela Merkel is also known to have said her government will not be able to fully compensate for the impact of US sanctions.
And when German Foreign Minister Heiko Maas says "we are facing difficult circumstances," how can we assume any country would risk their economic connections with the United States for the sake of Iran during such circumstances?
The Europeans are understanding how serious Washington is in its intention of escalating this economic war against the Iranian regime, especially with the objective of zeroing Tehran's oil exports.
Furthermore, with US Secretary of State Mike Pompeo emphasizing sanctions on North Korea will continue until Pyongyang's denuclearization is completely verified, rest assured Iran and all its counterparts are getting the message.
The road ahead will only become steeper for Tehran and domestically, the Iranian people will most definitely increase their demands and nationwide protests for democratic regime change.
Disclaimer - This author is writing under a pseudonym to protect his identity.