As Prime Minister Imran Khan completes his visit to Saudi Arabia, it is seen as the initiation of a new foreign policy to further Pakistan's core national interests.
Maintaining close strategic, military and economic ties since decades, Saudi Arabia was the first choice of the young government for upgrading ties to a new dimension.
Additionally, it seems that the Saudi Crown Prince Mohammad bin Salman and Khan will be able to synchronize Pak-Saudi ties on a personal level as they share similar interests.
Somewhat like Crown Prince Mohammed bin Salman's holistic package for economic, cultural and societal reforms, Vision 2030, Imran Khan also has plans for social reform and has taken the first steps towards austerity.
Trying to diversify Pakistan's economy with tourism and attract more foreign investment, Khan wants to solve the housing problem and provide employment opportunities for the youth.
Likewise, appreciating the effective anti-corruption drive run in Saudi Arabia under the supervision of the Crown Prince Mohammed bin Salman, Khan has resolved to end corruption in Pakistan.
Economic assistance
On the sidelines, there were reports that Imran Khan might seek Riyadh's economic assistance instead of going for a bailout package from the International Monetary Fund (IMF). Accordingly, the entourage accompanying Khan included his Finance Minister Asad Umar and financial advisor, Abdul Razzak Dawood.
Such a bailout package might mean that Saudi Arabia would deposit a certain amount in Pakistan's exchequer and provide it the necessary "cushion" to survive the drastic depletion in foreign exchange reserves.
Oil on deferred payments might also be offered by Saudi Arabia just like in the past when Pakistan had to face international economic sanctions after carrying out the 1998 nuclear explosions.
Right now, Pakistan requires $12 billion at least to survive the economic crisis, which is deepening with every passing day. Reaching out to friendly countries for the assistance might be a better option than resorting to the IMF, but these speculations are not confirmed yet.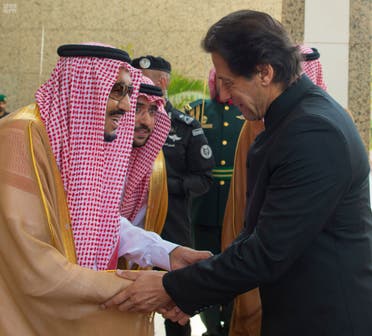 Noting the upgrade in relations, thinktank RUSI recently reported that Pak-Saudi relations had entered the "strategic domain where both countries are fine with each in pursuing their own interests independently." Notwithstanding any political differences in the past, the two sides are exploring new avenues of trade collaboration.
Sharing intelligence to combat terrorism, strategic working groups have been formed and the two countries have a more inter-dependent security relationship, which remains unaffected by their ties with any other countries.
Announcing Saudi participation in CPEC and Pakistan's role in furthering "Vision 2025", both the countries have now "institutionalized" their strategic ties, says the report. Thus, Pak-Saudi ties have been further consolidated due to a convergence of interests and become an unflinching force.
More inter-dependent in nature now, bilateral relations remain unaffected by their ties with any other countries. Even though this equation had needed a reset since a while due to divergences over the regional scenario, there have never been any trust issues between the two states.
Describing Pak-Saudi relations as "probably one of the closest relationships in the world between any two countries without any official treaty", former intelligence head Prince Turki al-Faisal had aptly assessed the depth of bilateral ties.
CEPEC and Middle East
As the China- Pakistan Economic Corridor (CEPEC) makes its way towards the Middle East, the synergy in Pak-Saudi relations makes sense as the economic, strategic and security interests of both nations are conjoined. Not only does Saudi Arabia host the largest Pakistani diaspora in the world, Pakistan's energy security also depends on it.
In reciprocation, Pakistan facilitates the kingdom with military training programs and a security guarantee for its holy sites as the only Muslim nuclear power. Any destabilization of Saudi Arabia directly impacts Pakistan's interests and as the sole Muslim nuclear power it guarantees security.
Having had close military ties over the years, Saudi Foreign Minister Adel al-Jubeir observed that, "Pakistan had a role to play in sharing with the world the lessons it had learned from its own war on terror." Addressing strategic and security issues together, both nations are on a solid upward trajectory.
Working on Vision 2030 as well as the CPEC will bring both nations closer. As far as trade is concerned, Saudi Arabia is among the main 15 export partners of Pakistan and trade is above $4 billion per annum with prospects that a Bilateral Investment Treaty could be signed.
Remaining the biggest exporter of oil and petroleum products to Pakistan, Saudi Arabia is also the key market for Pakistani goods and services. Interestingly, both Saudi Arabia and Pakistan have a young population in the majority and need to provide employment.
With its partnership in Saudi Vision 2030, Pakistan can provide technical and managerial workforce required for these mega-projects and it can also help with training in skills.